Crops were cultivated in regions of the Amazon 10000 years ago
Far from being a pristine wilderness, some regions of the Amazon have been profoundly altered by humans dating back 10,000 years, say researchers.
An international team found that during this period, crops were being cultivated in a remote location in what is now northern Bolivia, BBC News reported.
The scientists believe that the humans who lived here were planting squash, cassava and maize.
The inhabitants also created thousands of artificial islands in the forest.
The end of the last ice age, around 12,000 years ago, saw a sustained rise in global temperatures that initiated many changes around the world.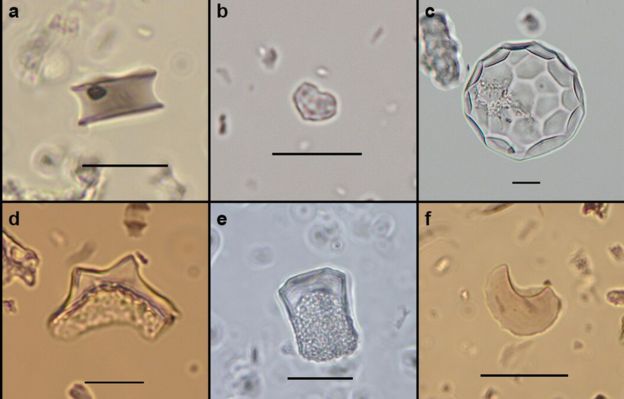 Images of the phytoliths found by the scientists – the scalloped sphere in the top right corner is from squash
Perhaps the most important of these was that early civilisations began to move away from living as hunter-gatherers and started to cultivate crops for food.
Researchers have previously unearthed evidence that crops were domesticated at four important locations around the world.
So China saw the cultivation of rice, while in the Middle East it was grains, in Central America and Mexico it was maize, while potatoes and quinoa emerged in the Andes.
Now scientists say that the Llanos de Moxos region of southwestern Amazonia should be seen as a fifth key region.
The area is a savannah but is dotted with raised areas of land now covered with trees.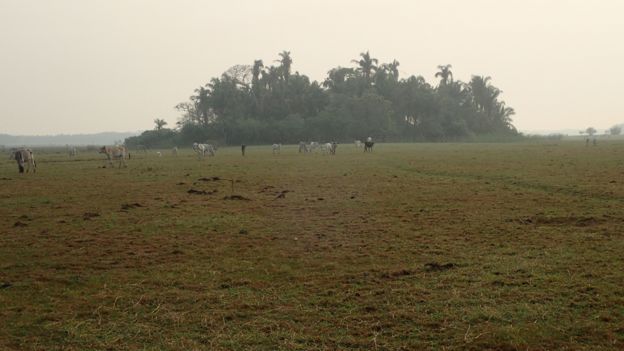 One of the 4,700 forest islands in this region of Amazonia
The area floods for part of the year but these "forest islands" remain above the waters.
Some 4,700 of these small mounds were developed by humans over time, in a very mundane way.
"These are just places where people dropped their rubbish, and over time they grow," said lead author Dr Umberto Lombardo from the University of Bern, Switzerland.
"Of course, rubbish is very rich in nutrients, and as these areas grow they rise above the level of the flood during the rainy season, so they become good places to settle with fertile soil, so people come back to the same places all the time."
The researchers examined some 30 of these islands for evidence of crop planting.
They discovered tiny fragments of silica called phytoliths, described as tiny pieces of glass that form inside the cells of plants.
The shape of these tiny glass fragments are different, depending on which plants they come from.
The researchers were able to identify evidence of manioc (cassava, yuca) that were grown 10,350 years ago. Squash appears 10,250 years ago, and maize more recently – just 6,850 years ago.
"This is quite surprising," said Dr Lombardo.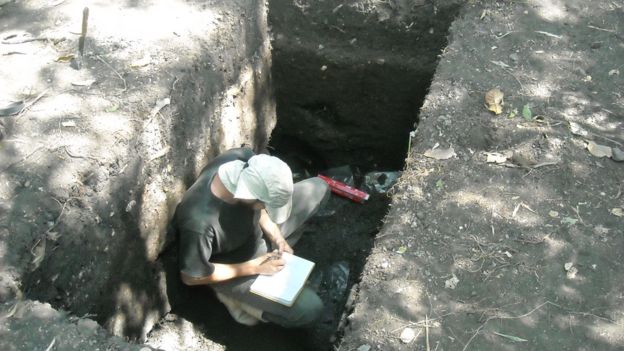 The scientists at work on the site
"This is Amazonia, this is one of these places that a few years ago we thought to be like a virgin forest, an untouched environment."
"Now we're finding this evidence that people were living there 10,500 years ago, and they started practising cultivation."
The people who lived at this time probably also survived on sweet potato and peanuts, as well as fish and large herbivores.
The researchers say it's likely that the humans who lived here may have brought their plants with them.
They believe their study is another example of the global impact of the environmental changes being felt as the world warmed up at the end of the last ice age.
"It's interesting in that it confirms again that domestication begins at the start of the Holocene period, when we have this climate change that we see as we exit from the ice age," said Dr Lombardo.
"We entered this warm period, when all over the world at the same time, people start cultivating."
The study has been published in the journal Nature.
Azerbaijani oil prices decline
The price of Azeri LT CIF Augusta, produced at the Azeri-Chirag-Deepwater Gunashli (ACG) oil field amounted to $18.6 per barrel on April 24, which is $0.14 less compared to April 23, Trend reports with reference to the country's oil and gas market.
The price of Azeri LT FOB Ceyhan amounted to $16.56 per barrel on April 24, which is $0.12 less compared to April 23.
Azerbaijan has been producing Azeri LT since 1997 and exporting it via the Baku-Tbilisi-Ceyhan (BTC) and Baku-Supsa Western Export Pipeline, as well as by rail, to the Georgian port of Batumi.
Azerbaijan also sells its URALS oil from the Russian Black Sea port of Novorossiysk, delivering it through the Baku-Novorossiysk oil pipeline.
The price of URALS with shipment from the port amounted to $17.32 per barrel on April 24, which is $0.1 less compared to April 23.
The cost of a barrel of Brent Dated oil, produced in the North Sea, amounted to $16.01 per barrel, indicating a decrease of $0.29.
(1 USD = 1.7 AZN on April 25)
News.Az
Six more opposition activists arrested in Azerbaijan
Six more opposition activists have been sentenced to administrative detention in Azerbaijan in the latest of a series of arrests of members of the opposition.
On Friday, Nijat Abdullayev, a member of the Supreme Council of the opposition Popular Front Party, was sentenced to 30 days of administrative detention.
The party reported that he was detained by men in civilian clothes while travelling to a grocery store near his home.
A day earlier, Faig Amirli, financial director of opposition newspaper Azadlig and assistant to the head of the opposition Popular Front Party, Ali Karimli, was also sentenced to 30 days.
His wife, Lala Amirli, reported on Facebook on Wednesday that three cars pulled up near their house and the men inside 'grabbed him by the neck' and put him in a car and drove away.
Later that day, two other Popular Front Party members — Ali Karimli's bodyguard, Ruslan Amirli, and video blogger Natig Izbatov — were also sentenced to 30 days.
Two members of the Azerbaijan Democracy and Welfare Movement (ADR), Shakir Mammadov and Vafadar Aliyev were also sentenced to 15 and 30 days on Monday and Tuesday respectively.
All six men were found guilty by the court of violating the quarantine regime.
The Popular Front Party stated that the arrests were politically motivated.
According to the Administrative Code, violation of a quarantine regime is punishable by fines of ₼100–₼200 ($60–$120) or detention for up to 1 month.
Opposition youth activist 'warned'
On Wednesday, Ilkin Rustamzade, one of the leaders of pro-democracy youth movement NiDA, reported on Facebook that he expected he might soon be arrested.
Rustamzade, who recently moved to a rented flat with his wife, said police officers showed up to his parents' house, where he is registered, earlier that day. After not finding him there, he said officers took his father to a police station before releasing him shortly after.
According to Rustamzade, the police claimed he had violated the quarantine regime by moving to another flat.
He said police officers later came to his flat and surrounded the building, but that he refused to leave demanding an official request.
'I moved to the new flat on 2 April and left the house only once by notifying authorities by SMS. Of course, it's not about the quarantine rules […] it is the continuation of repression against me', he said.
According to Rustamzade, 'about 10 days ago' he launched a petition urging the government to allocate social benefits to the public and to cancel bank loans and communal bills.
He said that several days later, he received a message on social media from a fake profile who presented himself as a 'man of the intelligence service', and warned him that if he did not stop the petition, they would 'do very filthy things to my wife'.
Later that day, Rustamzade said that dozens of fake profiles on social media had started writing insulting posts about him and his wife. He said a profile of his wife was created on an escort website.
Later, he reported that their landlord had demanded they move out.
On Thursday, Amnesty International condemned the harassment of Rustamzade and his family.
'Recently, the Azerbaijani authorities have used the COVID-19 pandemic to increasingly crack-down on their critics', their statement said.
'As the arrests and politically motivated prosecution of critics continue, Azerbaijan remains closed to human rights scrutiny.'
Rustamzade was pardoned in March 2019 after serving six years in prison on charges of hooliganism, and later 'inciting violence and organising mass disorder', for planning a peaceful protest in 2013.
In a statement on Friday, the National Council of Democratic Forces, an opposition coalition, said the government had been ramping-up its repression of the opposition during the COVID-19 pandemic.
They urged the Azerbaijani people and the international community to loudly condemn 'these anti-national and anti-human acts' and to organise a strong protest campaign to stop the policy.
A new wave of repression
In a speech delivered on 19 March, Azerbaijani President Ilham Aliyev called any opposition group that did not enter 'into dialogue' with the authorities, 'traitors and corrupt representatives of a fifth column'.
'Look at what they say on social networks, they are full of hatred and provocation. They seem to want riots to happen. They want turmoil. They want panic', Aliyev said.
He added that if a state of emergency were to be declared due to the COVID-19 outbreak, the 'isolation of representatives of the fifth column' would become 'a historical necessity'.
Ali Ahmadov, the deputy chair of the ruling New Azerbaijan Party, wrote on Facebook on 23 March that there were 'two viruses' in Azerbaijan, COVID-19 and the 'political virus' that was the opposition, specifically Ali Karimli. He wrote that the two should be fought against at 'the same time'.
The National Council of Democratic Forces condemned Aliyev's speech, calling it 'fascist'. They also accused Aliyev of planning false 'plots' that would give him justification for repressing the opposition.
Two days after Aliyev's speech, Samir Babayev, a member of the opposition Muslim Unity Movement, was the first opposition activist to be arrested during the pandemic.
He was detained while he and other members of the movement distributed medical masks and information brochures about COVID-19 outside a central metro station in Baku. He was placed under administrative arrest for one month.
The following day, Tofig Yagublu, an opposition politician from the Musavat Party, was sentenced to three months in prison on the charges of hooliganism.
Later that day, Anar Malikov, a member of the Popular Front Party, was placed under administrative arrest for 10 days accused of 'violating quarantine'.
Popular Front Party leader Ali Karimli called Babayev, Yagublu, and Malikov, 'coronavirus prisoners'.
[Read more on OC Media: Azerbaijan arrests opposition activists during COVID-19 outbreak]
Georgia coronavirus cases reach 385
The number of confirmed cases of the novel coronavirus (COVID-19) in Georgia has reached 385, according to local media.
So far, 3 patients have died from the infection and 84 others have recovered in Georgia.
Georgia confirmed the first case of coronavirus on February 26.
As many as 4,971 citizens are under quarantine.
News.Az