"I'm going to dance until morning. And get a tattoo" – residents of Baku make plans for after quarantine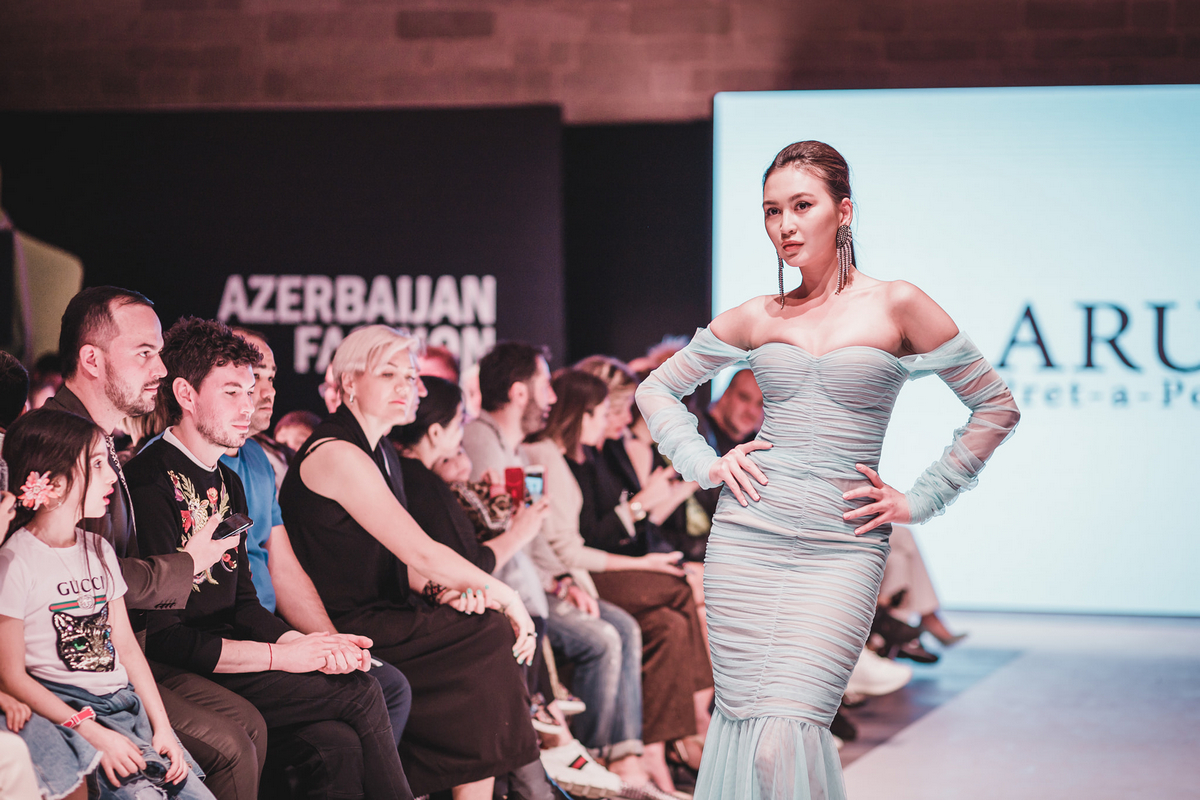 The quarantine in Azerbaijan has been extended to May 31, and it is still unknown if the country will lift it after this date. But residents of Baku are already dreaming and planning for the future. Some of them have no desire to return to their former lives, and others have begun to allow themselves more than they did before.
Leyla Akhundova, 41, curator for a humanitarian organization:
"After quarantine, I'm going to walk out the front door. I will just keep walking for several hours. I'll buy myself crazy outfits and wear bright red lipstick. I'll go to cafes with my friends. I'll go on a bar crawl. I'm going to dance until morning. And get a tattoo."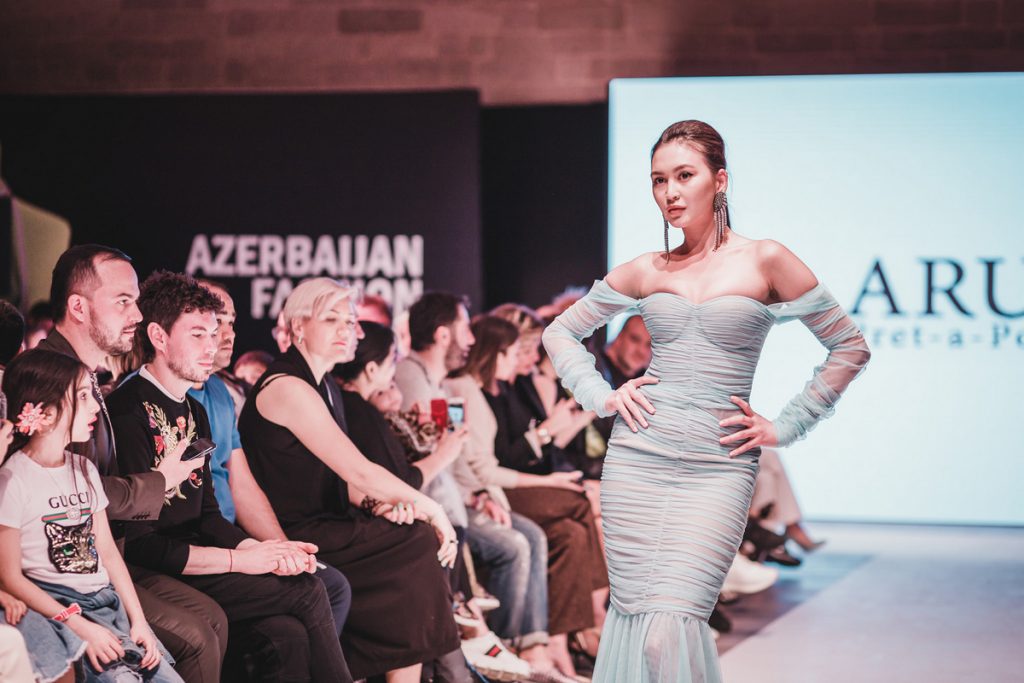 Vagif Abasov, 38, history teacher:
"There are some things that you always put off until later. You say, "I'll get to it," or "I'd rather stay home." But later may not always come.
After the quarantine, I'll go to the movies with a person who I've planned to go with for a long time. More accurately, I'll allow myself to go. I'll leave my den more often.
Natavan Bakhabova, 38, photographer:
"Honestly, I'm a terrible rule-breaker, so quarantine didn't affect my life too much – I still went on walks, visited friends and strolled through the parks, despite the fences and barriers.
But I have a friend living in Moscow who has dreamt of having a child for a long time, and finally got pregnant. So when the flights start back up, the first thing I'll do is visit her.
I also love to swim, and I got a membership at a pool shortly before the quarantine started. I was so disappointed when it closed. I can't wait to swim again."
Kamran Ismailov, 55, journalist:
"One of my post-quarantine dreams has already come true – I finally got a haircut. Thank God, I don't remember the last time I was so scruffy. I'm glad the barber shops are opening again on May 4, because a little longer and I would have shaved my head bald, honest.
When the borders open, I'm going to Tbilisi. I was there almost every month for work, and I already miss it a lot. I'll go to my favorite pub where they have great beer and a jukebox. Those are very rare nowadays. I'll drop in a lari and choose a song. First one will be Spanish Caravan by The Doors.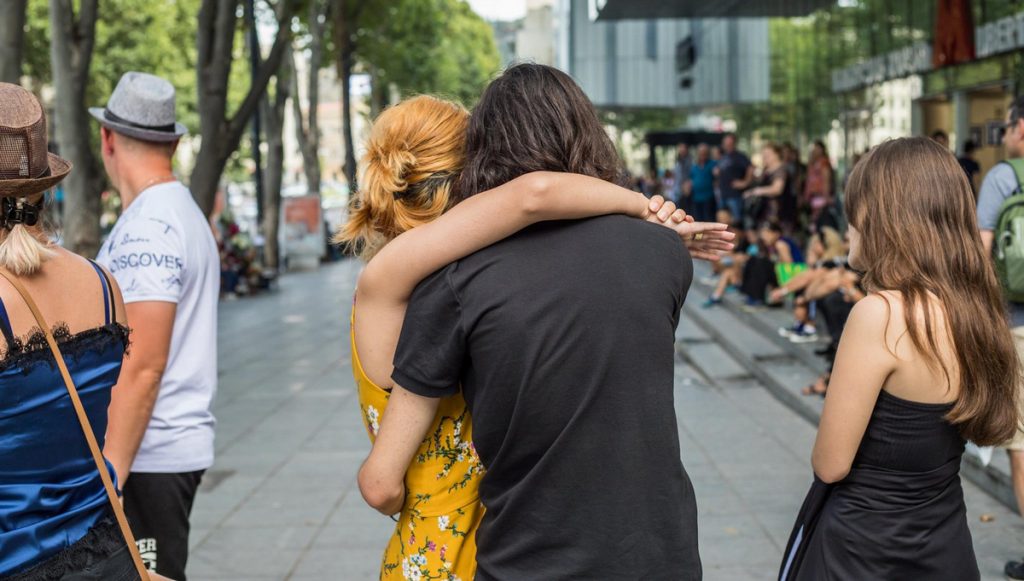 Zemfira Aliyeva, 65, retiree:
"I really want to go to the dacha and work in my garden. I haven't gotten enough of that recently. You see, elderly people are prohibited from going outside right now.
I used to walk two hours a day. And now I just look out from the window at the sea and the green trees. I feel like a prisoner.
And in the courtyard, spring is in full bloom. It's very difficult. I hope that soon I'll be able to return to the life I'm used to, and to the things that matter most to me – the dacha, my garden, nature, daily walks, movement, freedom."
Husband and wife Farid Abdulov (28, teacher) and Sabina Abbasova (28, architect):
"After quarantine, we dream of traveling to the north of the country for a few months, to Zaqatala, beginning construction on our house and planting our first joint garden. True, we have practically no money for construction, but we are ready to do the labor ourselves.
We wanted to start at the beginning of spring, but the pandemic pushed our plans back, and at the same time gave us the opportunity to look at the city, our lives, work and home from a different perspective.
We have this strong desire to continue life after quarantine at the same pace that we're moving now – not rushing, devoting time to both work and our personal lives, leisure. Spending more time at home and less time in the city center, loitering from one cafe to another, and continuing to focus on self-development."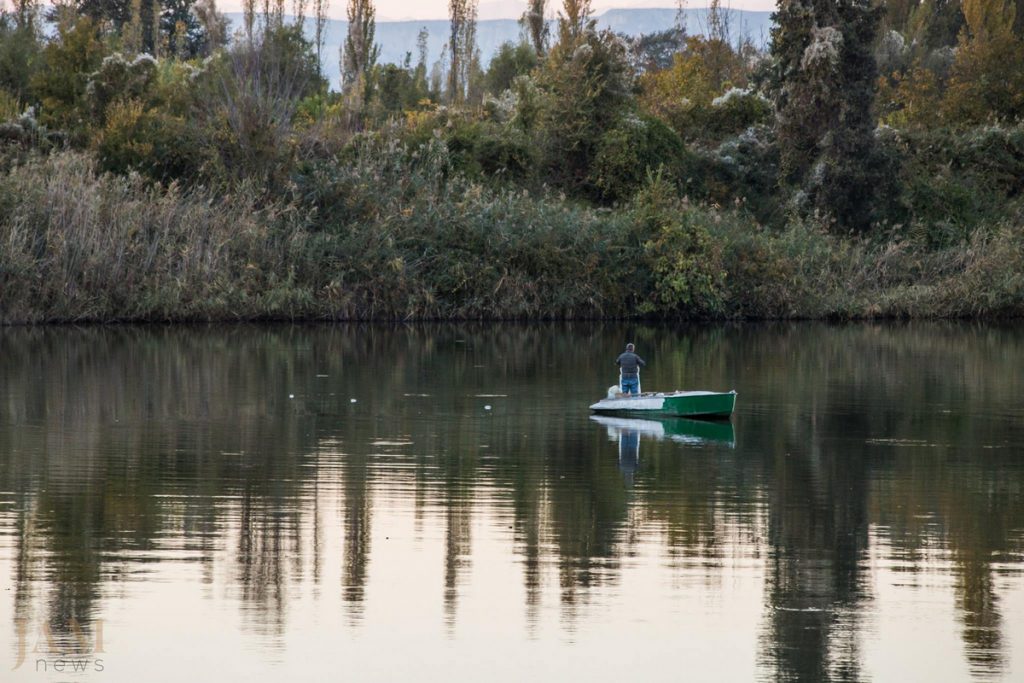 The post "I'm going to dance until morning. And get a tattoo" – residents of Baku make plans for after quarantine appeared first on English Jamnews.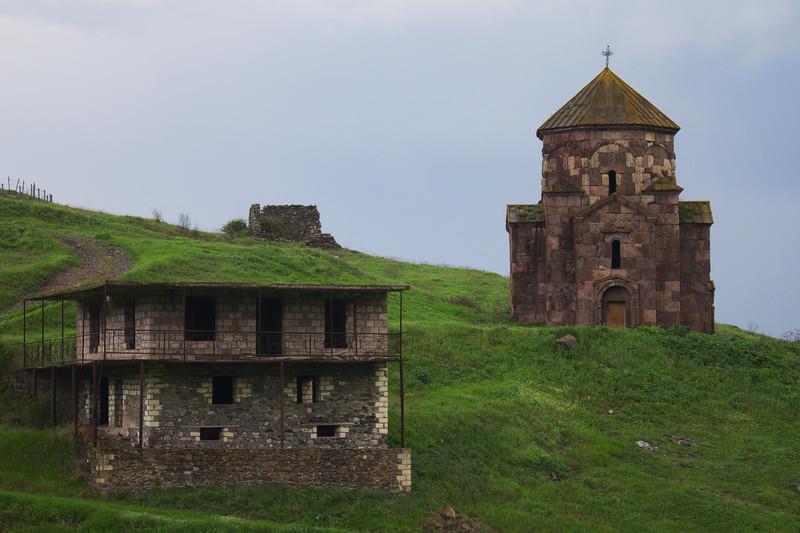 Journalist Tatul Hakobyan wrote this article for JAMnews in May 2016, after the April escalation of tension in the Karabakh conflict zone and on the Armenian-Azerbaijani border. These were the first large-scale military operations around Nagorno-Karabakh since the signing of the armistice in 1994, and they received the name the 'April' or the 'Four Day' War.
But this article is not just about this time, but refers to the conflict as a whole, describes the situation on the Armenian-Azerbaijani border, starting from the Soviet era. The situation has not changed much since 2016, and the issues that concerned the author then are relevant now.
An incident from the recent past
When I was a schoolboy, a teacher told me there were no borders in the Soviet Union. Indeed, borders were quite a relative concept in the Soviet Union. Of course, there were administrative borders between Armenia and Georgia and Armenia and Azerbaijan, but there was no need to produce a passport when crossing them. There weren't any border checkpoints either. Only the signs with Georgian or Azeri letters suggested that one was outside Soviet Armenia.
I recall Azerbaijanis from my early childhood. Azerbaijanis, who were my grandfather's acquaintances, often visited our home. My father also had some Azerbaijani acquaintances. Azeris from the neighboring Kemerli, who were mostly women, passed through our village on to the Novembaryan market to sell the fruit and vegetables that their donkeys were hauling. On their way back, they tied them to the village park's metal fence and went to a store to shop. They mostly bought huge white lump sugar-cubes.
It was late autumn of 1984. People from the Kremlin arrived to define the border between Azerbaijani and our village. Our village, Doveg, is located at the junction of Armenia, Georgia and Azerbaijan, and it borders the Azerbaijani village Kemerli. Doveg and Kemerli have a shared 13 kilometer border.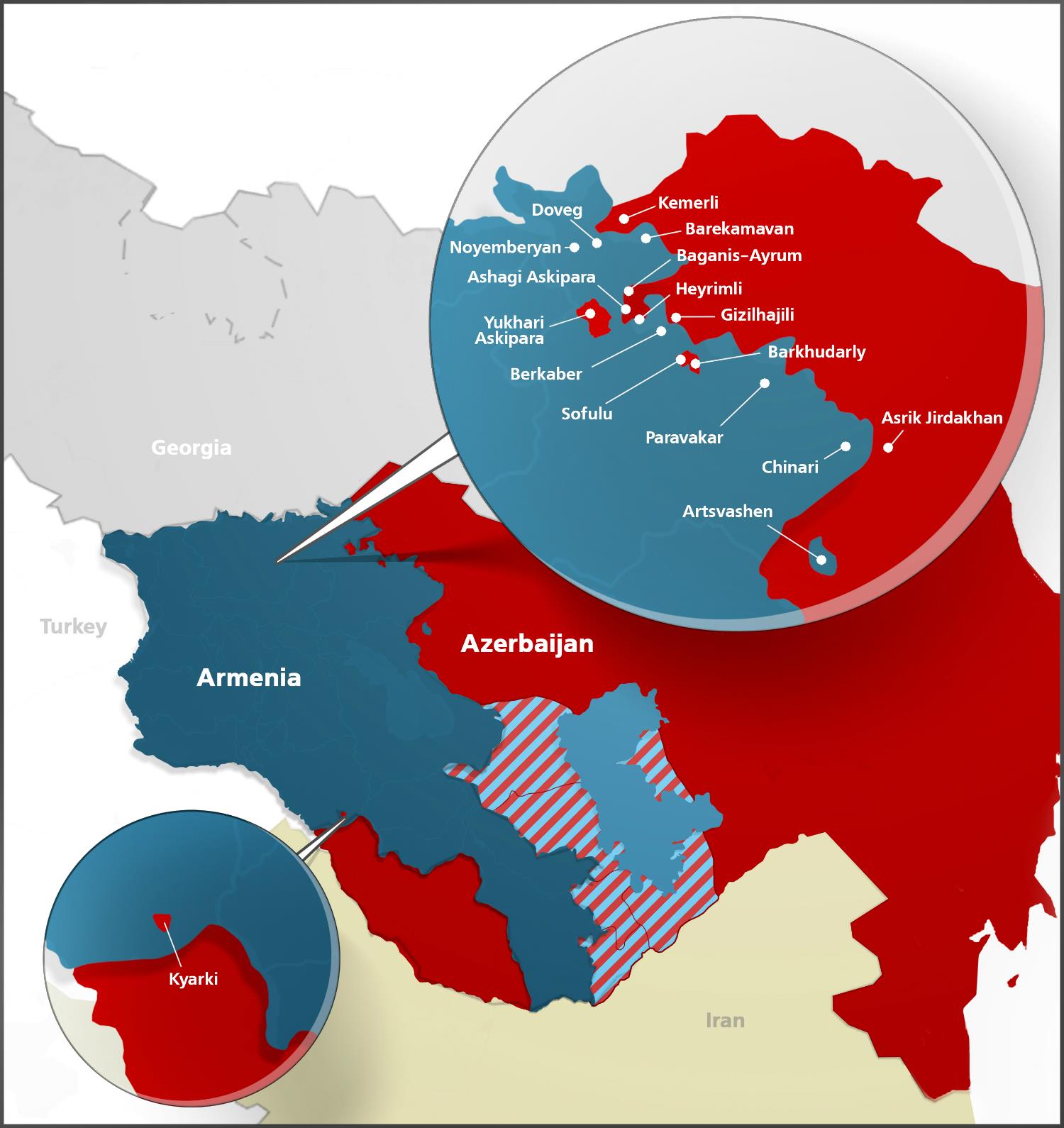 In October 1984, the relations between Azerbaijanis and us got tense. Azerbaijanis built a water pipeline from Doveg forest springs to Kemerli, which really stirred things up. The Head of Armenia, Karen Demirchyan and the Azeri leader, Kamran Baghirov, met in Moscow and agreed to consider the water pipeline issue at the border. The Deputy Prime Minister, Vladimir Movsisyan, was appointed as the individual responsible for the water pipeline from the Armenian side and his Azerbaijani counterpart, for the Azeri part.
They came to solve the problem at the source. A dispute over the ownership of certain forests and springs triggered confrontations between the two villages. As a result, several people, including Movsisyan, were taken to hospital with injuries. The soviet press did not report anything about those clashes, but the information about the incident reached Moscow. Yegor Ligachev, one of the soviet leaders, invited Movsisyan to Moscow to learn about the details. Baghirov visited Armenia which was followed by the start of the Armenian-Azerbaijani confrontation.
The Armenian-Azerbaijani administrative border was adjusted after the border incident. The USSR internal borders were changed many times. The fact that in February of 1988, the Nagorno-Karabakh parliament voted for the integration of the region, with a 75% ethnic Armenian population into Armenia, confirmed expectations.
In the years following the Karabakh war
The first serious Armenian-Azerbaijani clashes occurred in 1990, when Armenian forces gained control over several Azerbaijani settlements that formed a small island on Armenian territory: Kyarkin (on the border of Armenia and Nakhichevan), Yukhari and Ashagi Askipara, Baganis-Ayrum (in the Noyemberyan-Qazakh region), Heyrimli, Sofulu, Gizilhajili and Barxudarli (in the Ijevan-Qazakh region).
In August 1992, Azerbaijani armed forces took control of the Armenian Artsvashen village which was, until that point, an island in Azerbaijani district Kedabek. Today Azerbaijan still controls Noyemberyan (a considerable part of the arable lands of the Barekamavan village), Ijevan (over 800ha of the territory of Berkaber village) and Berda (1 400ha of the total land mass of Paravakar village) territories, that belong to Armenia from an administrative perspective.
Thus, the Armenian-Azerbaijani border has changed considerably since soviet times. Moreover, today the Azerbaijani armed forces occupy posts on Armenian territory and vice versa.
During the Karabakh war in 1992-1994, the Armenian-Azerbaijani border remained unchanged, but during the bloody conflict that lasted for two and a half years, both sides used heavy weaponry against each other and bombarded civil units and civilians in the settlements located along the contact line of the Armenian-Azerbaijani border. This has been the case since the 1994 truce until present day, taking the lives of hundreds of people.
Chinari: Life in a sniper's gunsights
I traveled along the entire Armenian-Azerbaijani border and visited all the border villages. Armenia and Azerbaijan are separated by the border in the north-east – 400km from the Armenian-Georgian-Azerbaijani triangle along the eastern part of the Sevan Lake and by several hundred kilometers of mountains in the south-west, in the Armenia-Nakhichevan region.
I once visited Chinari village, which borders the Asrik Jirdakhan village, part of the Azerbaijani Tovuz district. Chinari is probably the most dangerous village for civilians: there are military strongholds looming over them. I got acquainted with the 5-year old Alvina in Chinari kindergarten.
The girl was born five months after her father Levon died. He was killed by a sniper's bullet in the summer of 2008. As a result, the 21-year-old Levon did not see his daughter and Alvina never saw her father either. Levon's widow told me: "My daughter does not know the meaning of the word 'father'. When I call my father, Alvina says: "He is not father, call him 'grandfather', he is our grandfather. She does not know what father means."
The kindergarten staff and parents, who have come to take their children, also consider Chinari to be the most dangerous village on the Armenian-Azerbaijani border. Almost all the houses in the village, all the streets, the school, and the kindergarten are within the enemy's visual range. Recently, 300 Canadian poplars have been planted along the road leading to the school, the kindergarten and to the cemetery, per initiative of the organization 'Focus on Children'. After several years, these trees will grow and blcok the snipers' visual field.
While we were talking, Alvina and other children trickled over to us. Alvina stood near us; she cast her long hair in the air with her hands and recited a poem. It was about the peace that could not finally be established in Chinari and other Armenian and Azerbaijani villages.
Twenty-two civilians were killed in Chinari during the wartime and after the truce.
People are deprived of the possibility to cultivate the land
It was possible to cultivate land plots on the Armenian-Azerbaijani border until 2014. Of course, there were shootouts before 2014, killing the hard-working, peaceful Armenians and Azeris, like Alvina's father. Still, it was possible to gather crops and provide for one's family.
The situation abruptly changed since 2014. Instead of snipers fighting the war, there are now insurgents. At present, the villagers no longer cultivate the pre-border plots because there is a big chance that one will be killed.
In 2014, the Armenian Government passed two laws that provide for the social welfare of the residents of approximately 30 settlements, directly bordering Azerbaijan.
Under one of the adopted laws, residents are entitled to social assistance, that is to say, they partially pay for electric power, gas and irrigation water, as well as are fully exempt from land and immovable property taxes. In accordance with another law, any kind of entrepreneurship, organization of production in the border area is absolutely tax-free. This implies that any Armenian entrepreneur has the possibility to bring an already existing businesses or organize new businesses in the region.
However, life in the villages located on the Armenian-Azerbaijani border has become harder since 2014. The armaments that were in use during the 1991-1994 war are now being utilized against the civilian and peaceful population.
The situation was relatively calm on the Armenian-Azerbaijani border during the 4-day war in April. However, hundreds of Armenian and Azerbaijani civilians, ordinary villagers and farmers have been killed on this border since the truce in May 1994.
Armenian and Azerbaijani residents in border villages suffer most of all from the 'neither peace nor war' or 'peace and war' state. They cannot cultivate the land; every second they become victims of a shooting; their life is neither peace nor war.
The prospect of a peaceful future for little Alvina and other Armenian and Azerbaijani children, some of whom are fatherless, is getting more far-fetched.
These children grow up under the shadow of war.
Tatul Hakobyan is a reporter, a coordinator for the ANI Armenian Research Center, an analyst at the Civilitas Foundation and an author of the books: 'Karabakh Diary: Green and Black' and 'A view from Ararat: Armenians and Turks'.
Toponyms and terminology used in the publications, and views, opinions and strategies they contain do not necessarily reflect the views and opinions of JAMnews or any employees thereof. JAMnews reserves the right to delete comments it considers to be offensive, or otherwise unacceptable.
The post Life on the Armenian-Azerbaijani border from Soviet times to the present day appeared first on English Jamnews.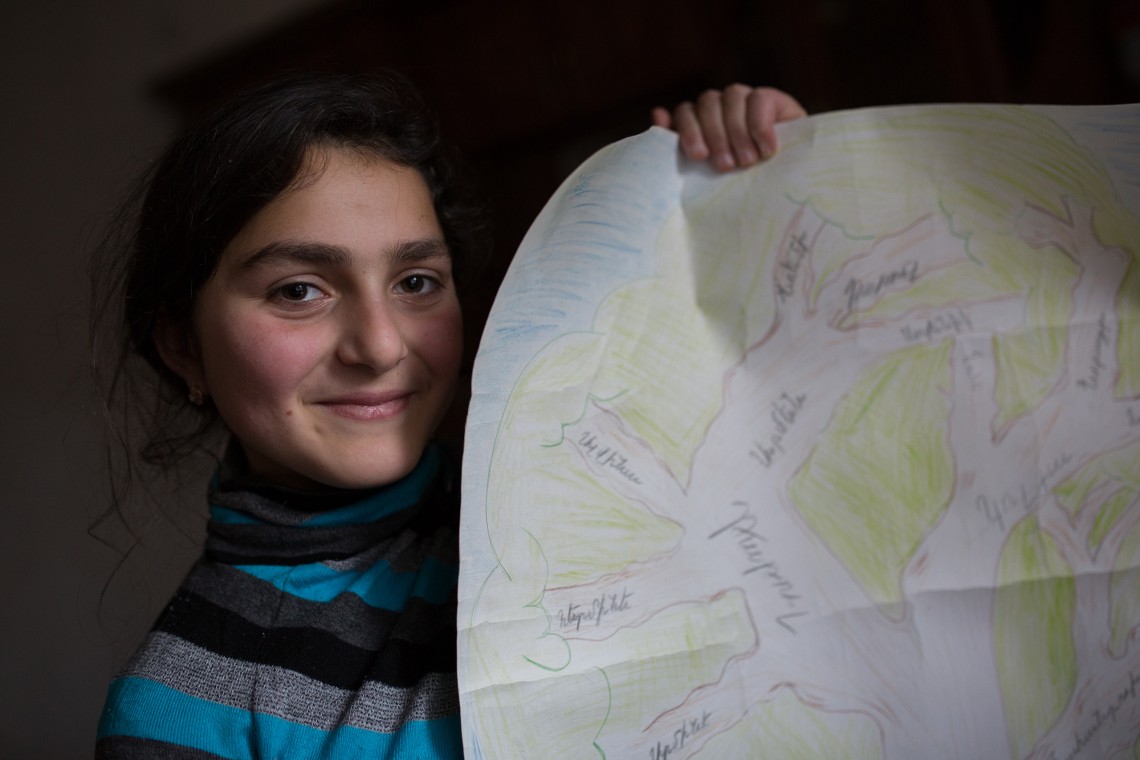 Text by ICRC
The ICRC has been present in communities located on both sides along the border between Armenia and Azerbaijan, helping the affected populations mitigate the consequences of the Nagorno-Karabakh conflict.
Our activities have addressed some of the primary concerns of people living in these areas, such as security, access to farmland and water, emergency health care as well as issues of economic, social and psychological well-being.
In 2019, we embarked on a process of enhancing meaningful and permanent access to education for children living in villages on both sides of the border. It is critical that children receive quality and competitive educational services despite the insecurity and volatility of their situation.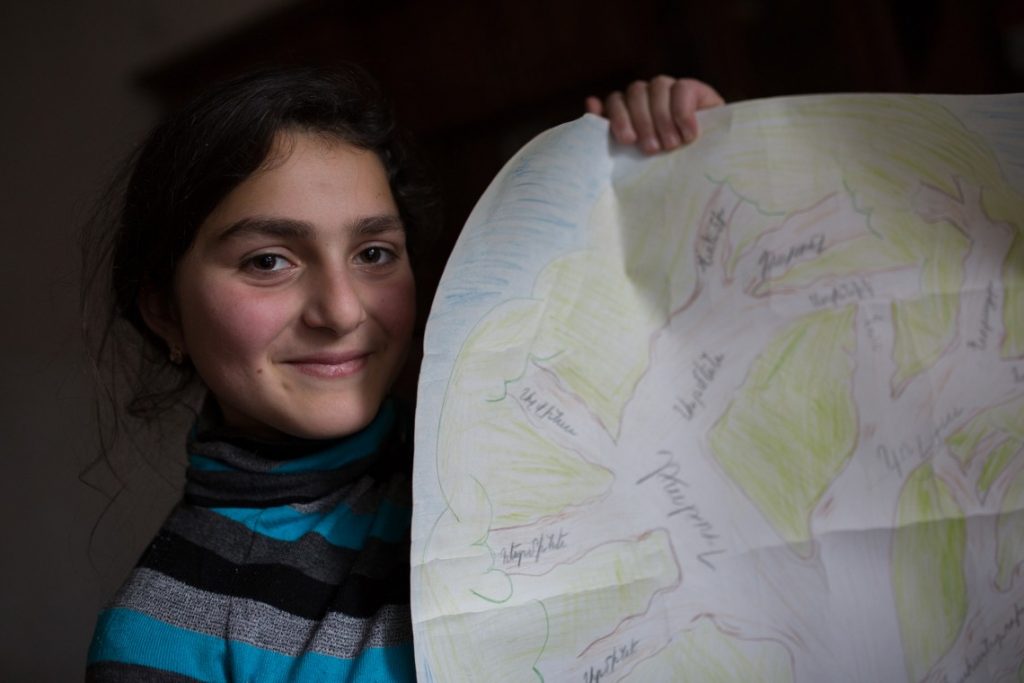 Here's Satenik, one of the kids who surrounds us as we arrive at Khndzorut, an Armenian village situated on the border with Azerbaijan. Her first question is if we speak English. Learning that we do, she looks at us with delight and then shares her dream of becoming an English interpreter and traveling to the United States.
But, her school has no English teacher.
Being cut off from the humdrum of a busy life, the tiny border village of Khndzorut does not have much to offer, and the school epitomizes that. While the school routine of around a hundred children may look anything but unconventional, its conditions are striking.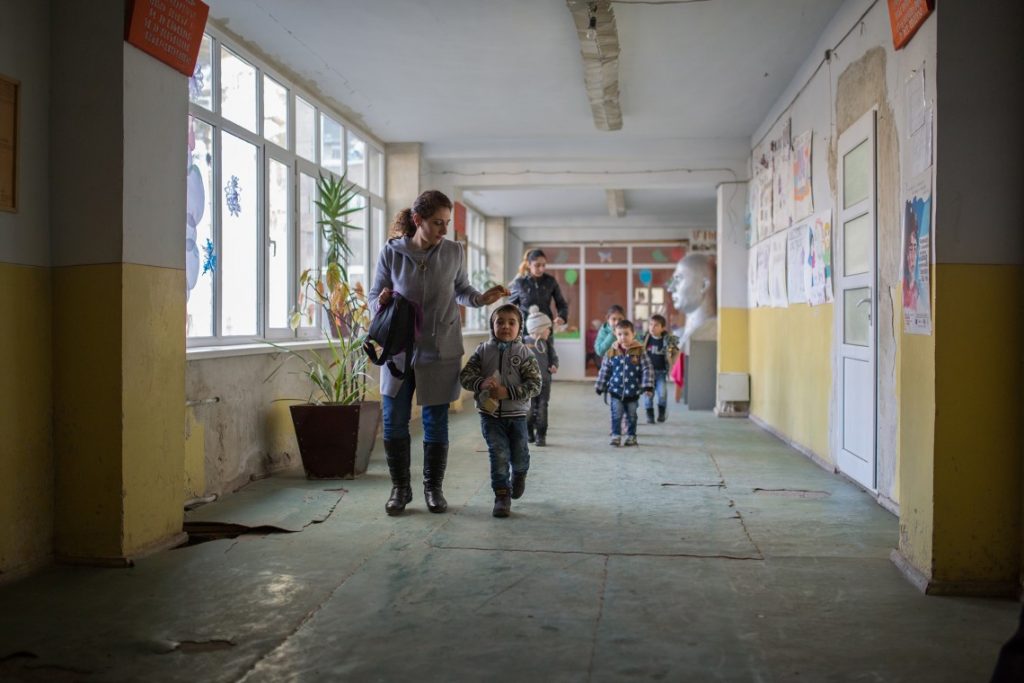 The ramshackle building hasn't been renovated in five decades, turning into a gloomy and cold place. This dullness is even more stark during winter, when there is no heating or hot water. Humidity is also a problem here – grass and roots inhabit the classrooms as much as the kids do, and moss paints the corridor walls a deep green.
We can smell the mould and hear the floor crack under our feet in the sports hall. With temperatures dipping very low during winter, it's impossible to use the space for any physical education classes.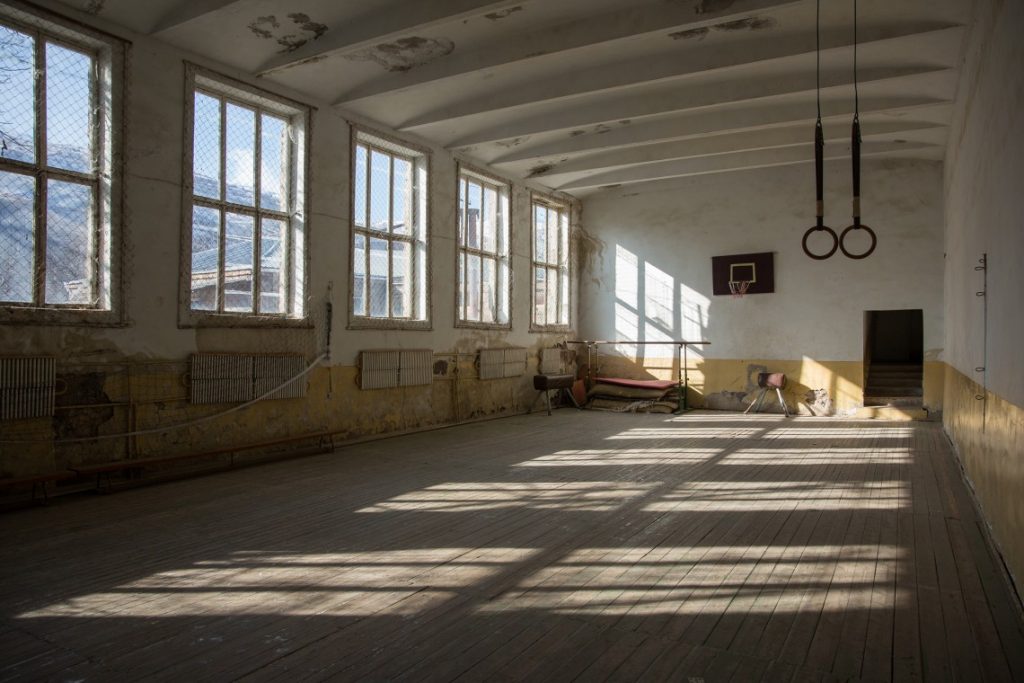 The half-destroyed school buffet is no better. The gadgets don't function properly and water freezes in the tap. A part of this space is used to serve food to younger students during summer. For the remainder of the year, the tiny place under the stairs turns into a dining area.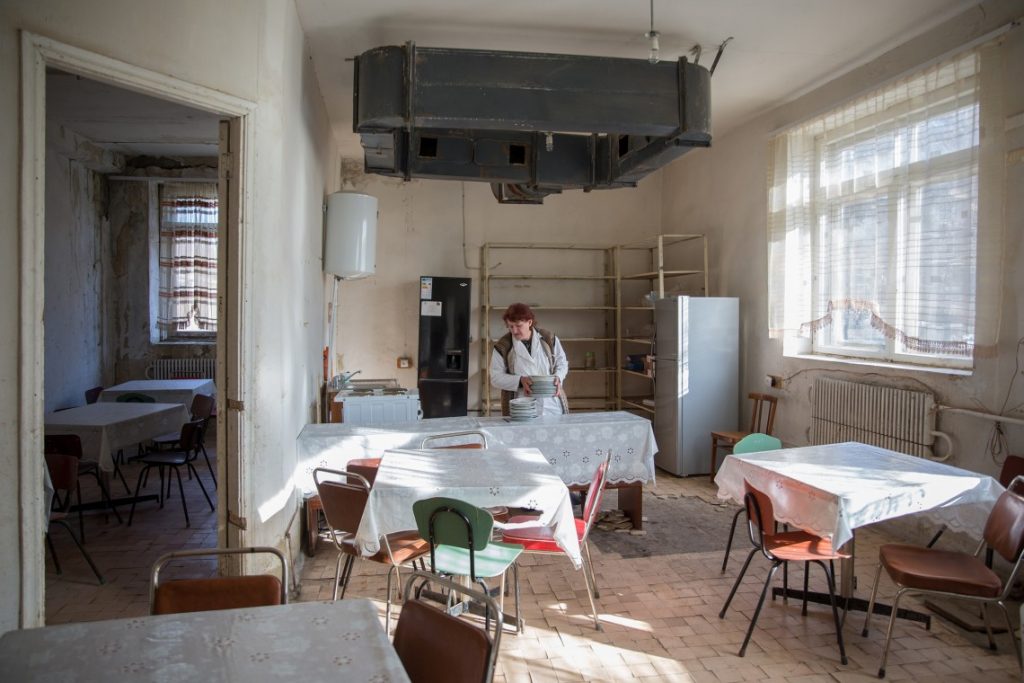 The poor condition of Khndzorut school adds to the vulnerability of living along the border, which needless to say, has a tremendous impact on children.
In a large concert hall, the International Committee of the Red Cross (ICRC) has walled in windows for heightened safety. It is a temporary refuge in case of shooting or shelling. The cracks in the walls intersect with posters about danger of landmines and how to stay safe. It's been 27 years since the unresolved Nagorno-Karabakh conflict erupted and the border schools in both Armenia and Azerbaijan feel the need to keep their children secure.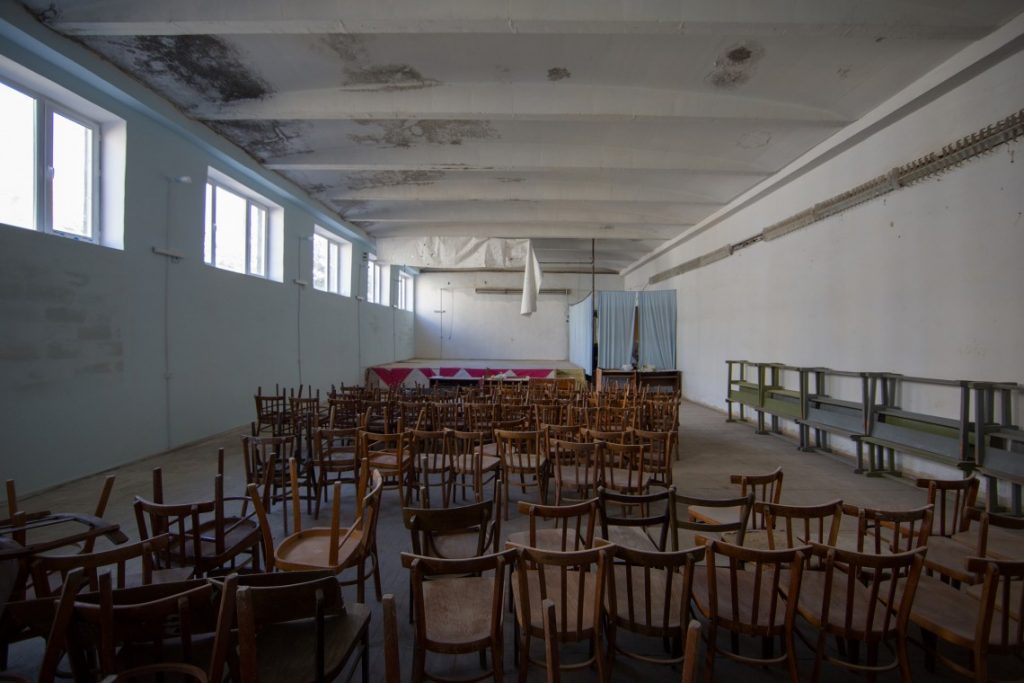 When we speak to Satenik's mother Varsik, we realize how vague the future looks in this border village.
If it continues this way and there is no English teacher next year too, I will send Satenik to Vayk, which is the closest town to us to take private classes. I will do everything to help my daughter fulfil her dream.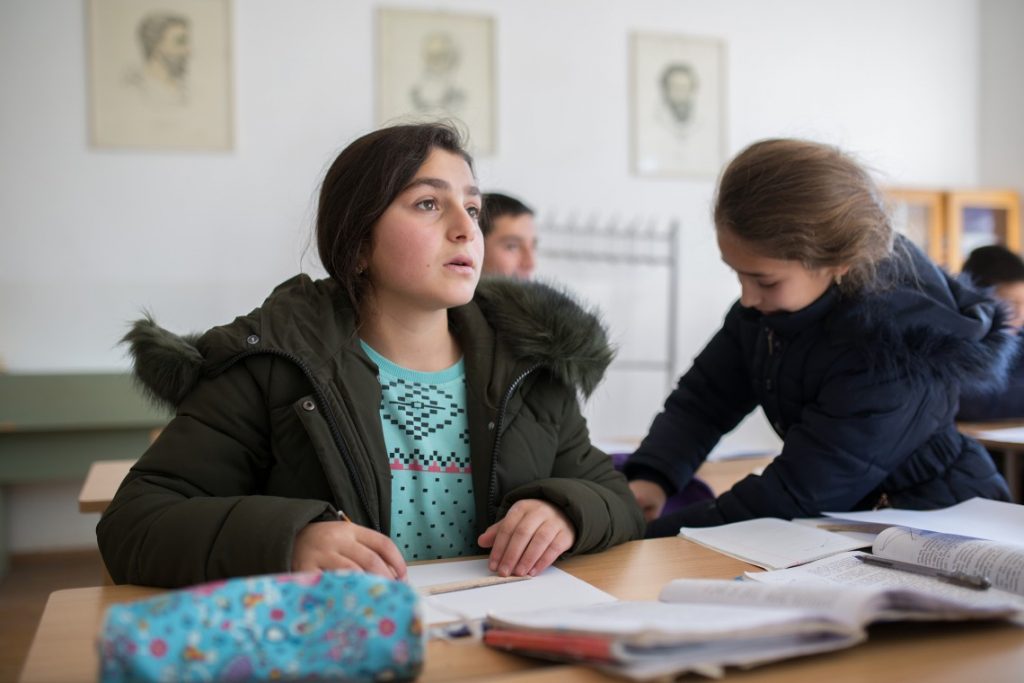 Satenik's grandfather, however, tempers her optimism. Having spent his entire life in the village, he says he cannot remember the last time there was a wedding in Khndzorut. "Thirty houses stand empty," he says, adding, "The new generation is very promising, but we are cut off from everything. People move to towns with their kids in search of a better life. This is an ageing village close to destruction."
Most men in Khndzorut earn their livelihood by doing contractual military service. Satenik's father has also been a contractual serviceman for 13 years.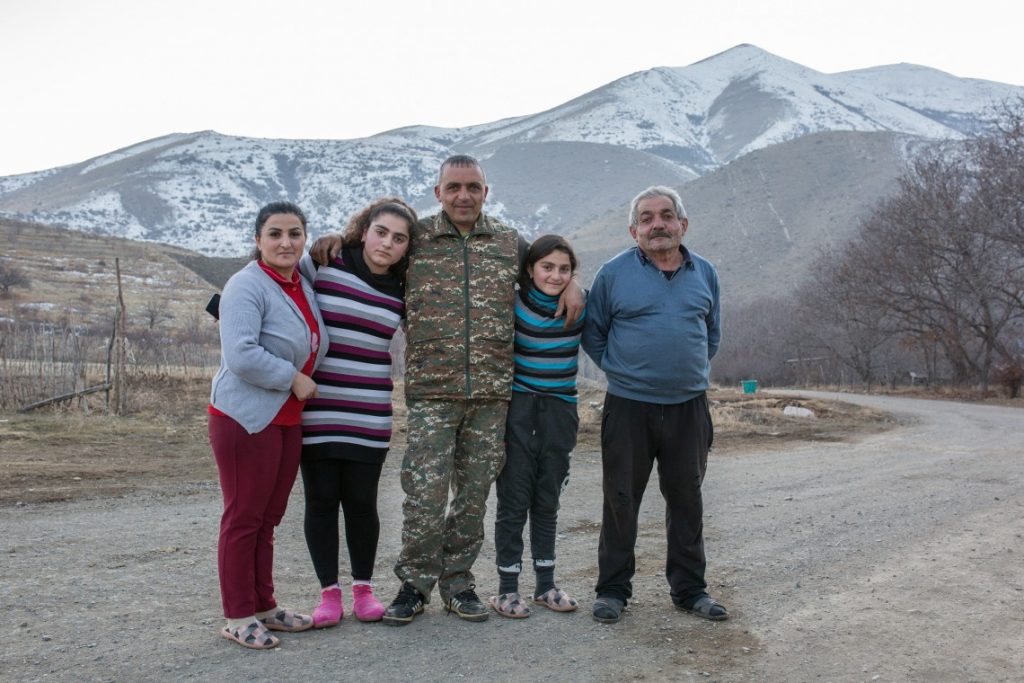 War seems to lurk everywhere – one can sense it in each house and even at school. Alvard Mikayelyan, the librarian, says children are assigned to read biographies of people killed during the Nagorno-Karabakh conflict of 1990s.
One way or another, our children are prepared for war.
The locals have lived through periods of tumult and peace since the 1990s, which has had an impact on this remote village.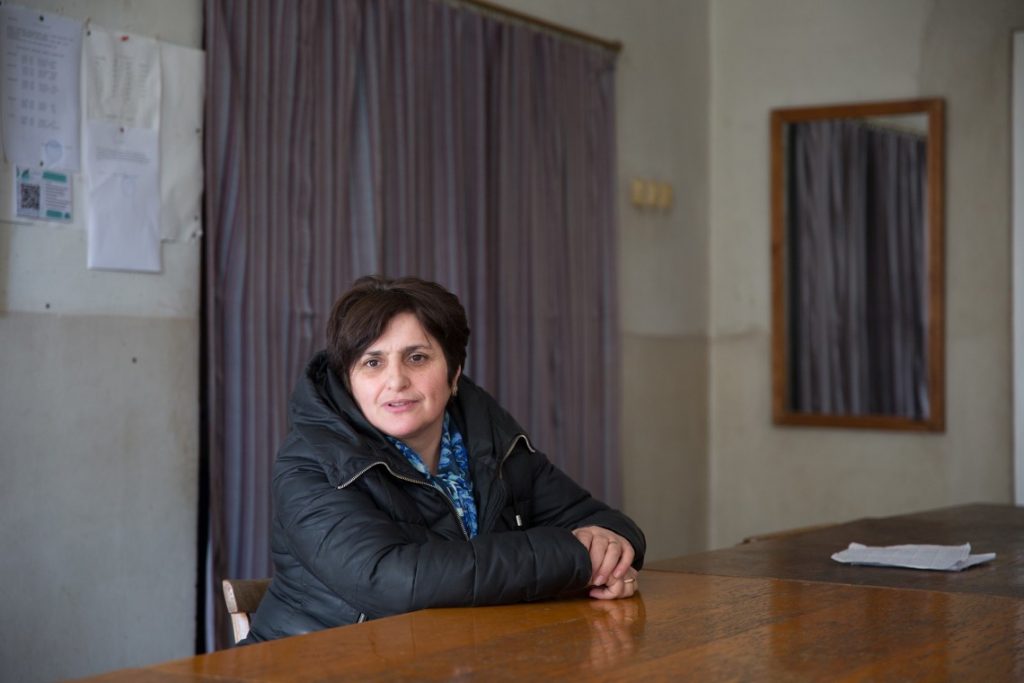 "There is nothing interesting to do here," says Anna, a 15-year-old student. "We cling to our phones all day long."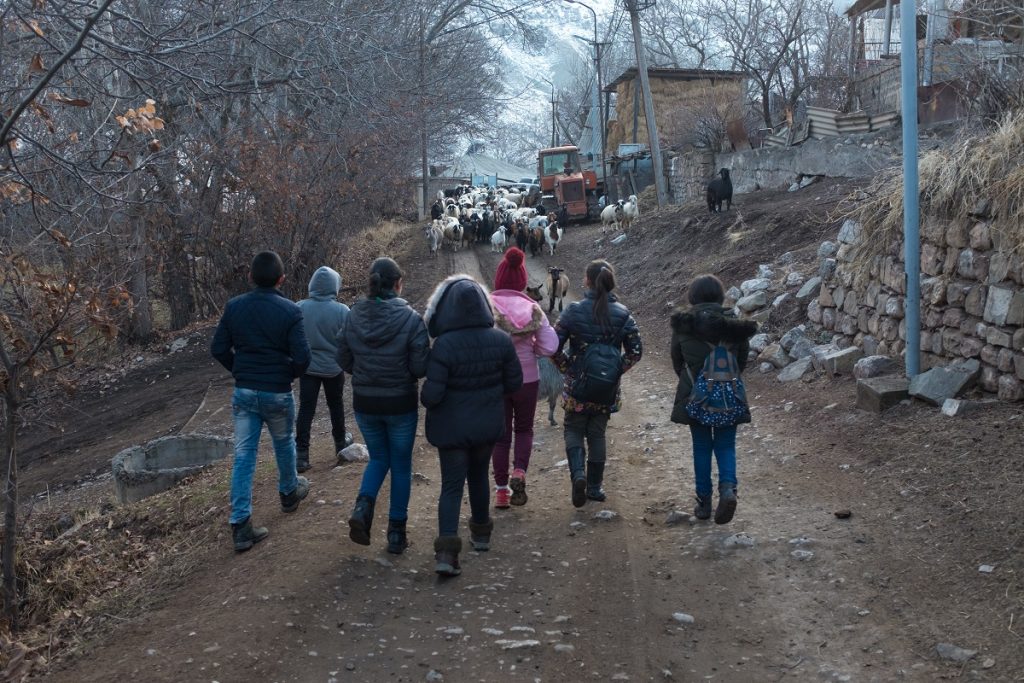 There are no extracurricular activities, no clubs or playgrounds. An abandoned football field that blends into the landscape now serves as a grazing area for cows and horses.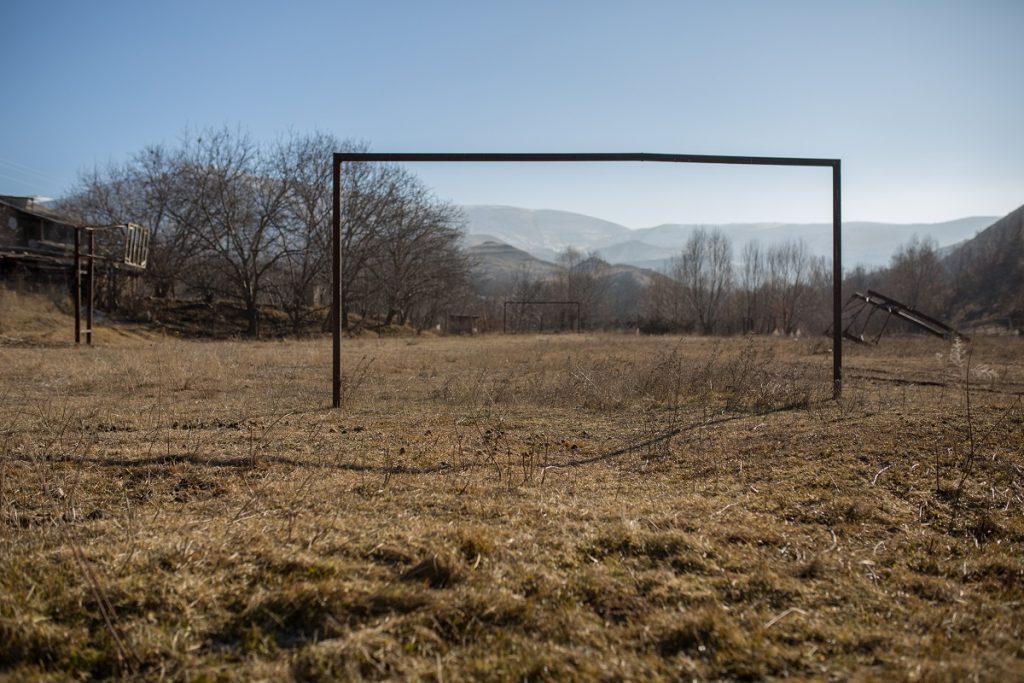 Idleness is visible aplenty in Khndzorut, and it becomes particularly salient as the lack of choices emerge. If you are a boy, you either become a shepherd or a contractual serviceman. Hrayr Ohanyan is a teacher of informatics and sometimes takes sheep to the mountains. If it coincides with his teaching days, Hrayr skips classes. During summer, children occasionally join their fathers in this routine.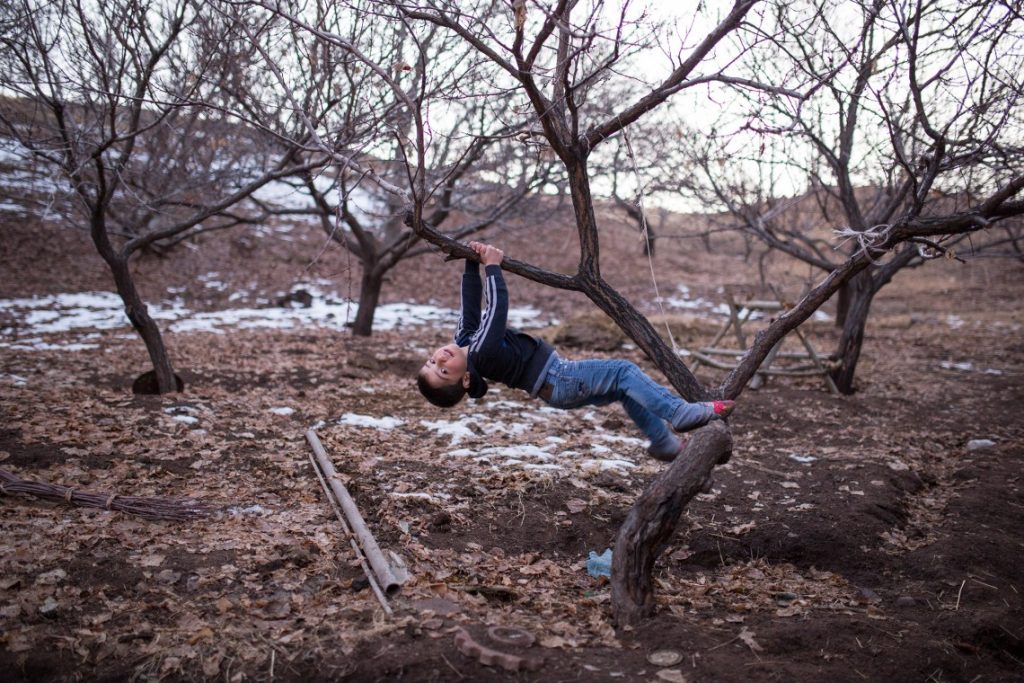 When Onik's father is away on army duty, the 10-year-old dons the cap of the "man of the house". When he grows up, Onik wants to become a doctor or a teacher of literature and as to whether he too will be a contractual serviceman, he exclaims, "Oh, no!" but then takes a pause and continues, "We will see…".
"When I turn 18, I will have to do my military service," says another young boy, Hovik Khachatryan. "After that, I am not sure what life holds for me."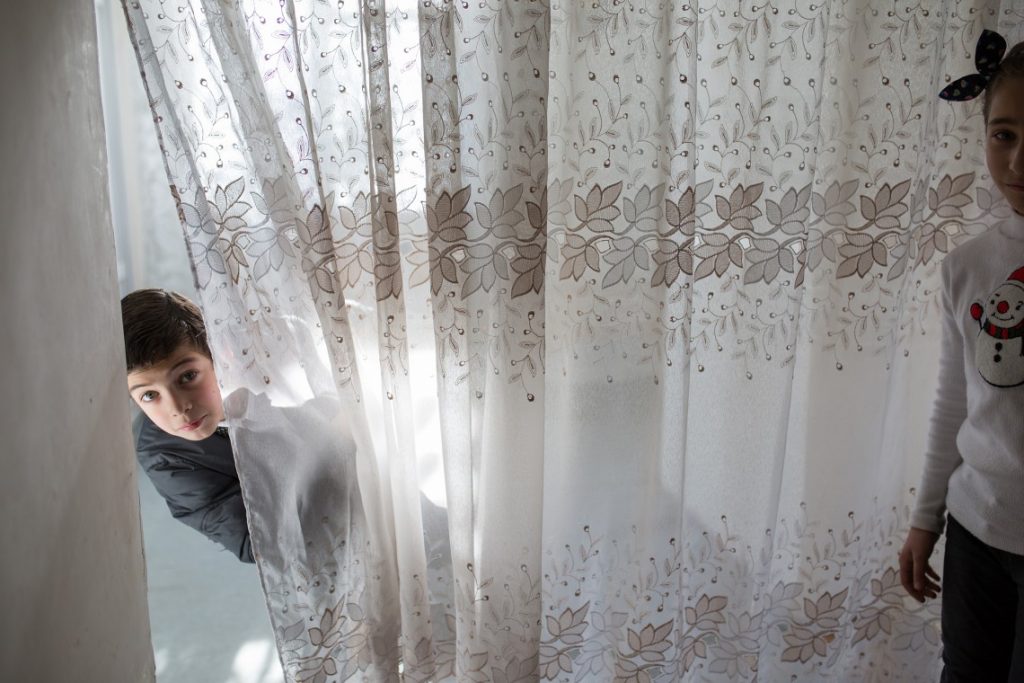 For the little girls in this village, there are just two paths to choose from – either a teacher or a homemaker after getting married.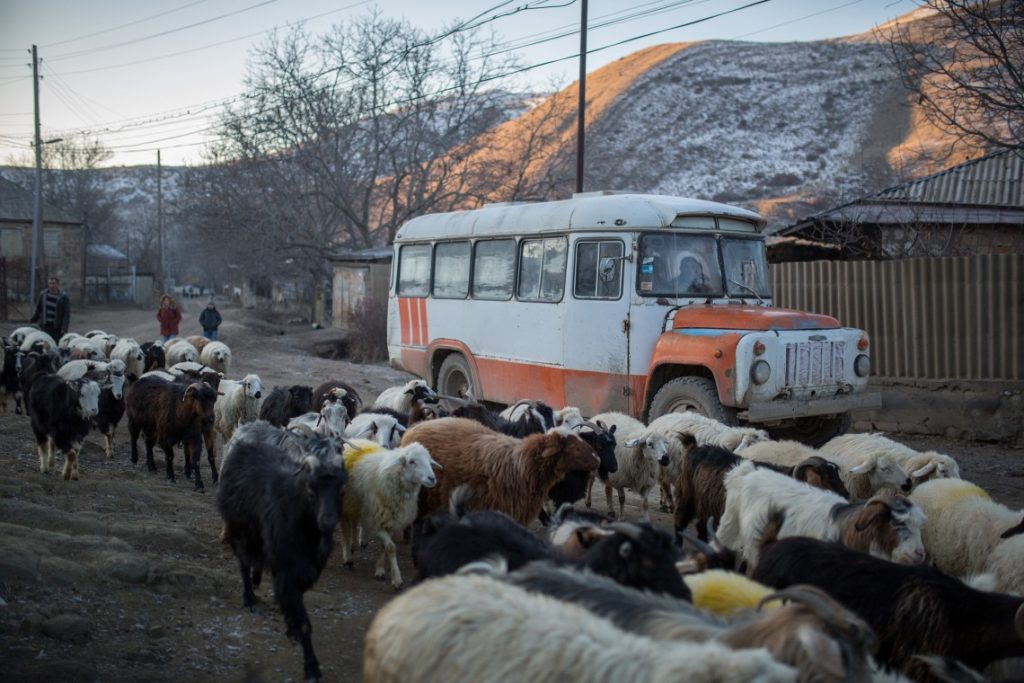 Back at the school, we meet Satenik's classmate Manvel from the seventh grade. He rushes to get on a Soviet-era bus to travel a couple of kilometres to the neighbouring Nor Aznaberd. There was a time when Azerbaijanis lived in that village. Things changed with the Nagorno-Karabakh conflict, making the villagers swap their homes with Armenians who left their abodes on the other side of the border.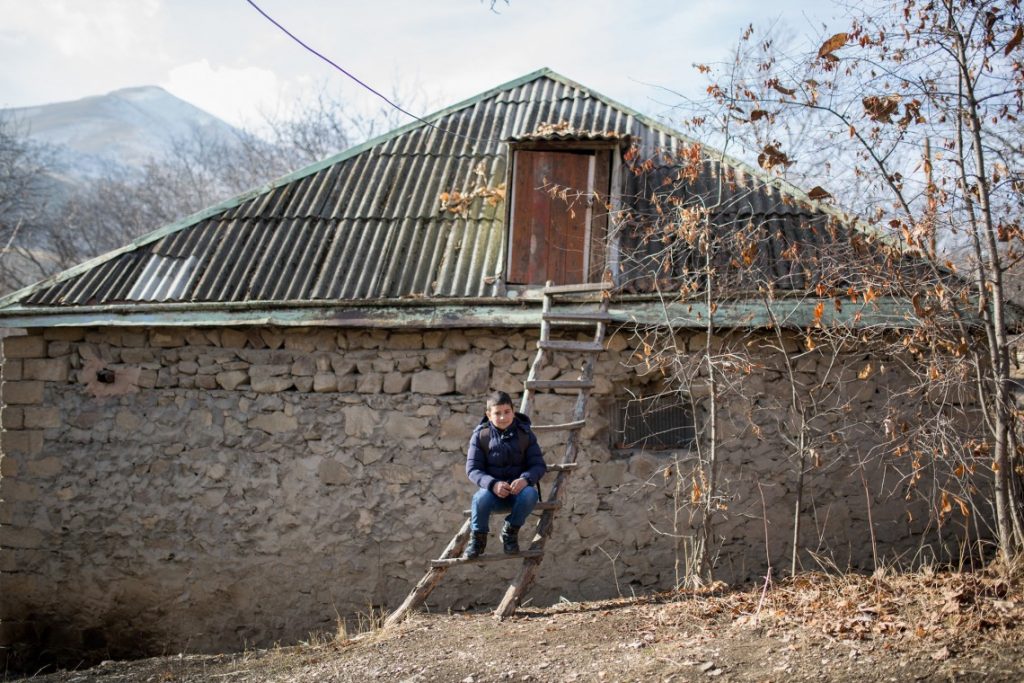 As there is no school in Nor Aznaberd, Manvel, his two brothers and other children travel to Khndzorut every day to study. The bus is old, has no heating and often breaks down.
Manvel is full of dreams and tries to study well. His parents think about leaving the village one day in search for a better future for the kids. His father Vagharhak Antonyan is also a contractual military man and spends two weeks in service and other two weeks with the family. These shifts define almost everything in their life, including the waiting and joy upon the father's return home.
We are afraid to send our children to school. They wake up very early and have to cross the road exposed to military positions, which is risky.
As a 12-year-old, Manvel stares at the realities of his existence every day, and his mother says, "I know he is disappointed."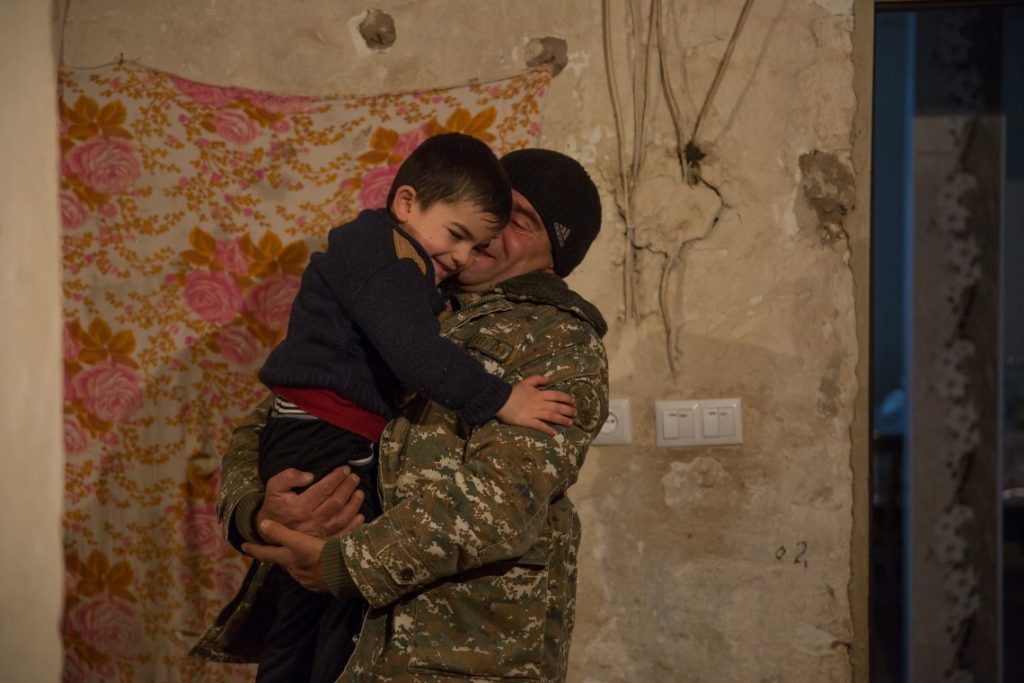 Holding similar views are Arakel Hayrapetyan and his brother Zohrak, who live in a house on the edge of the village together with ten other family members. For them, their life choices were made early in life and the pattern seems to be repeating for their five little sons. Both work in the military and do alternate shifts so that one of them can be home. Accordingly, some of the kids cheer up while the others become sad every two weeks.
We enter a spacious room covered with rags all around. The entire family is gathered around the wood stove, closer to light and warmth.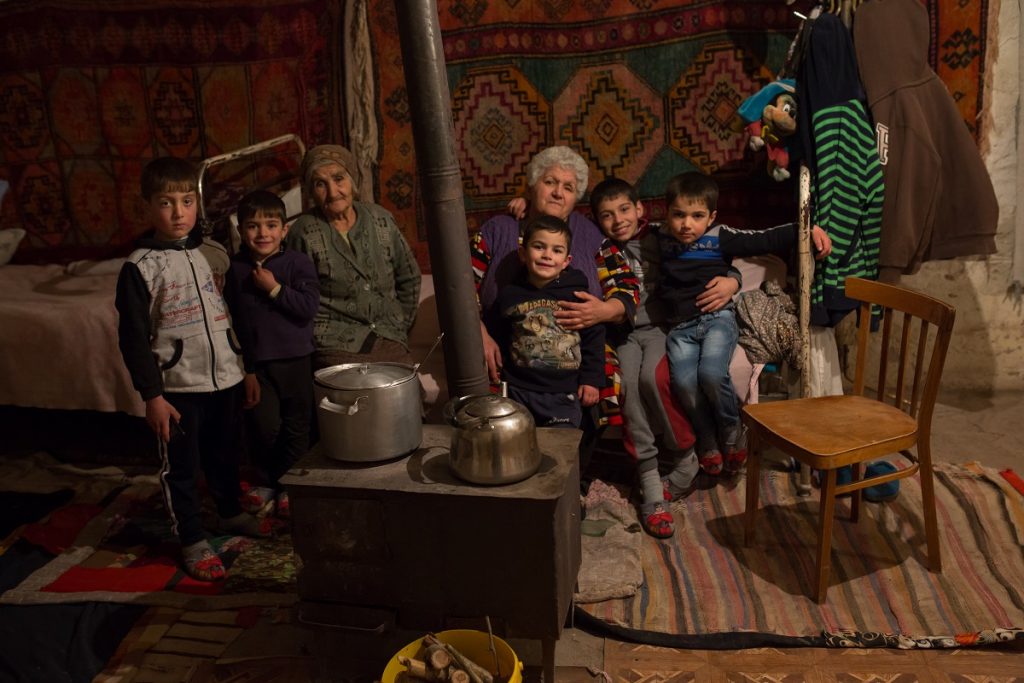 Beyond all this feeling of isolation and restriction, love also blooms in the air of Khndzorut. While the daily struggles of the grown-ups might bring dismay, the dreams of their children radiate optimism. In the middle of both these extremes lies the reality. And the reality is that life in this border village is dictated by conflict-related risks and consequences, thus putting basic facilities like education on the backburner.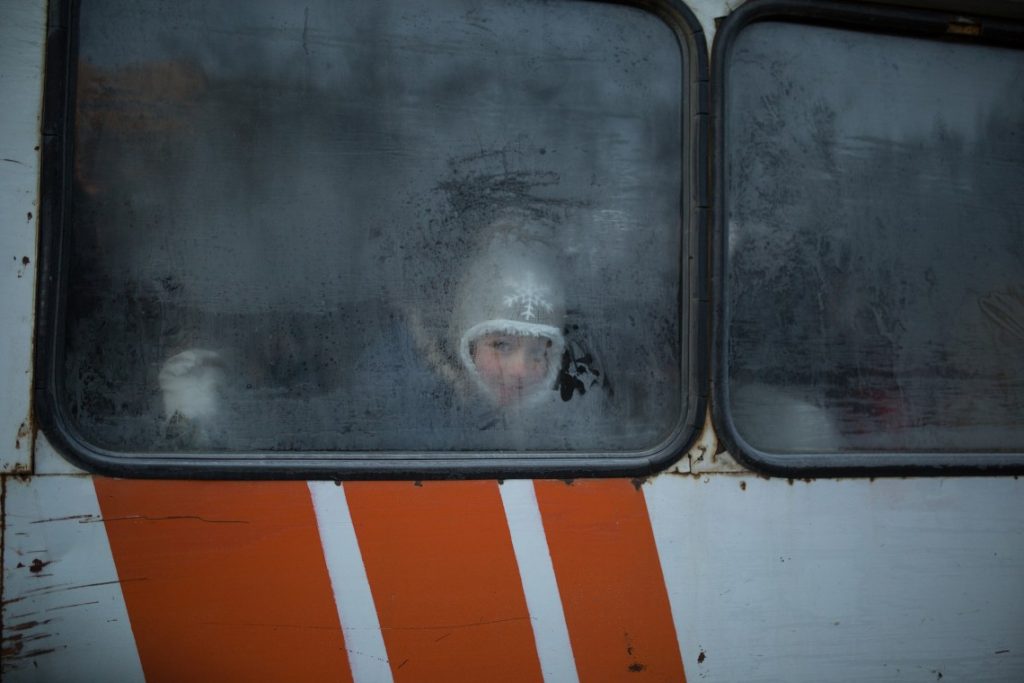 The post Armenia: Limited access to education – the unseen consequence of conflict appeared first on English Jamnews.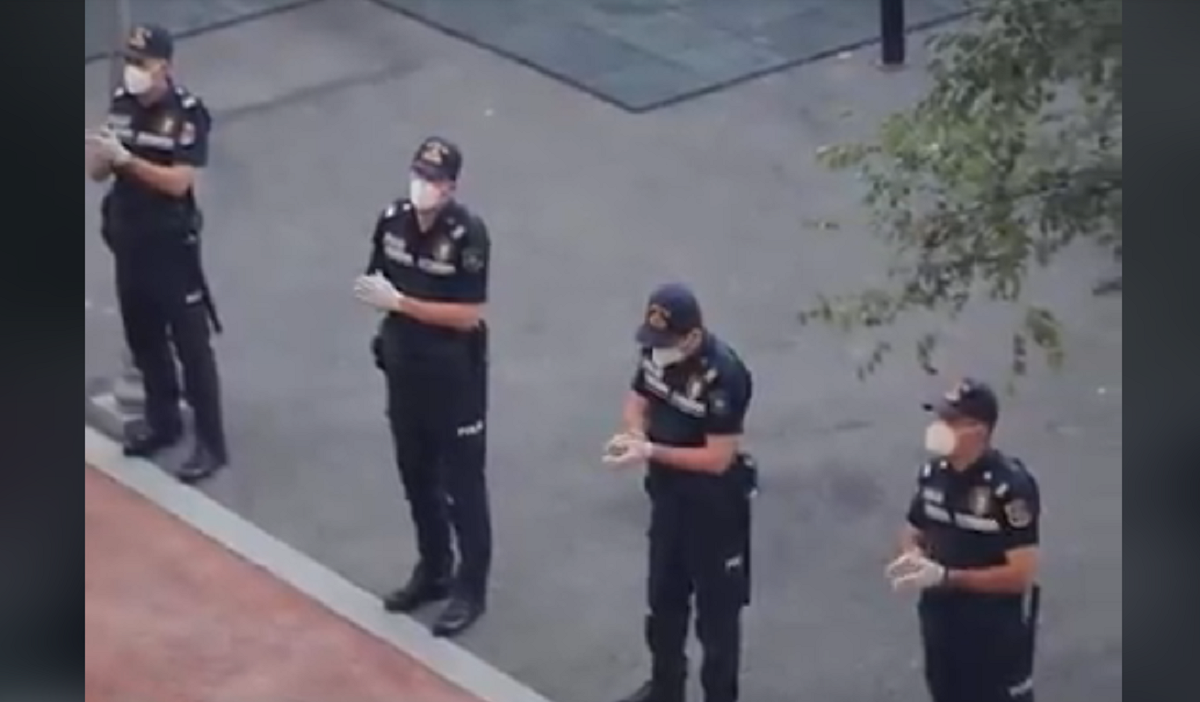 Baku police have arrested four people for their criticism on social media of a recent police PR stunt, which involved mugham vocalists singing a song of thanks to the police for their activities during quarantine.
In addition to their arrest, an apology video of the four citizens has been released online, in which they identify themselves, express regret over their actions and ask forgiveness from the same mugham singers they earlier criticised.
Most social media users believe the video was made under duress.
Ministry of Internal Affairs Spokesman Ehsan Zahidov told Pressklub.az: "…individuals who wrote offensive comments on social media were arrested. Each of them were charged, and sentenced to administrative arrest or fines by the court."
On June 8, a quarantine day in Azerbaijan, 11 people were detained in the Yasamal neighborhood for throwing trash from their balconies at police officers. The mugham performers imitated this act, but instead threw flowers at the police while singing.
At first, the video was presented on social media as if it was citizens who had spontaneously performed the song, but it later became known that they were, in fact, professional mugham performers.
Those who criticized this faked video on social media were detained and taken to the police station.
The incident was also widely discussed on social media, and people are outraged that the police are interfering in their personal lives.
Some comments from social media:
"The regime writes the most dirty and shameful pages of our history through the hands of the police."
"Good lord, the police are in a terrible state, they've lost the last shreds of respect they had among society."
"No talk of solving problems, just more punishments. Because they're not at all concerned with solving problems, they use any problem to reassert their despotism."
"Really, measures should be taken against those who write comments or posts on social media. Even those who can read and write at all should be fined. If that doesn't work, we must ban everything in the country that citizens can use to write – pens, pencils, markers, etc. If that doesn't help, we will gather all the writers together and burn them."
The post Azerbaijani police force social media users to apologize on camera for criticising police PR stunt appeared first on English Jamnews.