Coronavirus in the Caucasus. Armenia, PM: biggest problem is regulation violations
Fire breaks out near Azerbaijan's Hirkan National Park
A fire broke out in the forests near the Osakucha village of Azerbaijan's Lankaran district, Report informs with reference to the Azerbaijani Emergency Situations Ministry.
The burning territories are bordering the Hirkan National Park.
According to the ministry, the fire broke out in a mountainous area with rugged terrain.
The State Fire Service under the Emergency Situations Ministry, as well as a helicopter of the aviation department, have been involved in extinguishing the fire.
Urgent measures are being taken to put out the fire and prevent its further spread.
Subscribe to our Twitter page
Albania turns to EU for help in extinguishing wildfires
The head of Albanian General Directorate of Civil Emergencies, Haki Çako, stated today that the operations for extinguishing the flames which have spread rapidly in some areas of the country are continuing, Report informs, citing the Albanian Daily News.
Çako noted that they have also contacted the center for responding to civil emergencies in Brussels, but an aggravated situation is present in other Balkan countries. He stated that troops of the Albanian Armed Forces were sent by helicopter to Karaburun to make extinguishing the flames possible.
"There are many forces from the ground that operate in certain units. We contacted the civil emergency response center in Brussels. Due to the aggravated situation, all Balkan countries have been affected by high temperatures that have also experienced fires. We will continue until the situation normalizes.
The operation has not started today. It has been days since it started. Today it has become necessary to intensify the human resources of the Armed Forces and increase the air force," Haki Çako said.
"With the work done and the increase of resources, we hope to keep the situation under control. Due to the difficult terrain, the operation continued yesterday and today. We intend to stop the advance of the fire," he stressed.
Subscribe to our Linkedin page
Summer training period starts for Azerbaijani troops
Per the combat training plan for 2021, the types of troops, Army Corps, formations, and military units of the Azerbaijani Army have started a new training period, Report informs, citing the Azerbaijani Defense Ministry.
The primary goals and objectives, as well as their fulfillment during the training period, were brought to the attention at the events held in military units.
In order to increase the level of combat readiness of troops, the training process in the Army will be conducted following the requirements of the Supreme Commander-in-Chief of the Armed Forces, the orders of the Minister of Defense, taking into consideration the risks and real threats on land, at sea, and in the air, as well as combat experience gained in the Second Karabakh War.
Due to the beginning of the summer training period, drill reviews were held, the condition of the material and technical base in the military units was checked.
The combat readiness training started in all military units in the first days of the summer training period.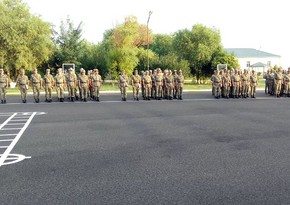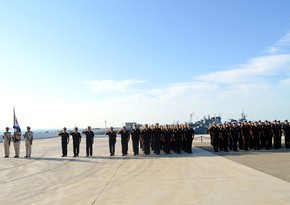 Subscribe to our Twitter page