Azerbaijani Ombudsman denies death of political prisoner. New reports of torture in prisons. Updated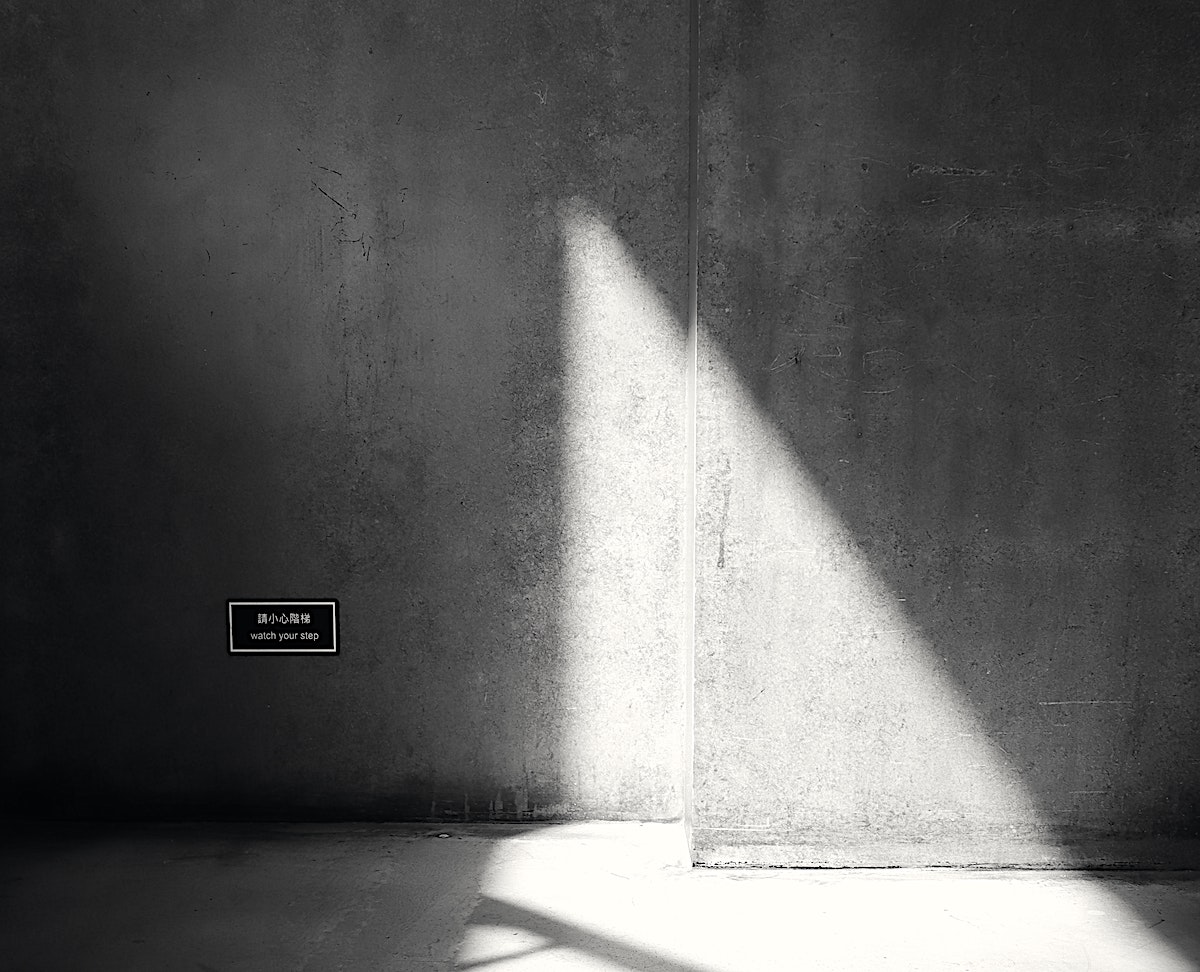 12.00 / August 2
It remains unclear whether Azerbaijani political prisoner Fuad Qahramanli, a board member of the opposition Popular Front Party of Azerbaijan, is alive or has died in prison.
On the evening of August 1, information about his possible death from torture appeared on social media [more in the report below]. Then, former prosecutor Rufat Safarov denied this message on his Facebook page.
"The head of the department for the prevention of torture of the Azerbaijani Ombudsman's Office, Rashid Rumzadeh, said that Fuad Qahramanli is alive," Safarov wrote with reference to lawyer Bahruz Bayramov.
The lawyer was promised that on Monday, August 3, they would try to arrange a meeting with Qahramanli.
• At least 40 prisoners infected with coronavirus in Azerbaijan, including one political prisoner
• "Living in Azerbaijan is my right", journalist Afgan Mukhtarli, former prisoner of conscience, talks to JAMnews about plans for the future.
Rufat Safarov, in the same post, critically noted that the ombudsman's staff should have visited the prisoner after the alarming messages on social media and provided reliable information to his family and friends.
Instead, they postponed the issue for several days.
With the hope that Fuad Qahramanli is still alive, opposition blogger Bakhtiyar Hajiyev also writes:
"I appealed to the Ombudsman about the state of Qahramanli. About half an hour later, I was informed that he was alive and that he was currently in the Kurdakhan detention center. It is reported that his condition and conditions of detention are good.
The issue is now under the personal control of Ombudswoman Sabina Aliyeva. I look forward to a solution to the issue of organizing meetings between prisoners and their families and lawyers."
There is very little information on the state of political prisoners in Azerbaijan's prisons as a whole.
Blogger Nihad Huseyn wrote on his Twitter that opposition activist Seymur Akhmedov was able to send a letter from prison to his loved ones, in which he reported being tortured daily and beaten.
Akhmedov, like Qahramanli, was detained among 45 opposition activists for participating in a rally in Baku in support of the army on the night of July 15.
Riots in Baku after bodies of those killed on border with Armenia brought back home
Several thousand protesters in Baku broke into parliament and demanded to start a war with Armenia, but were expelled with tear gas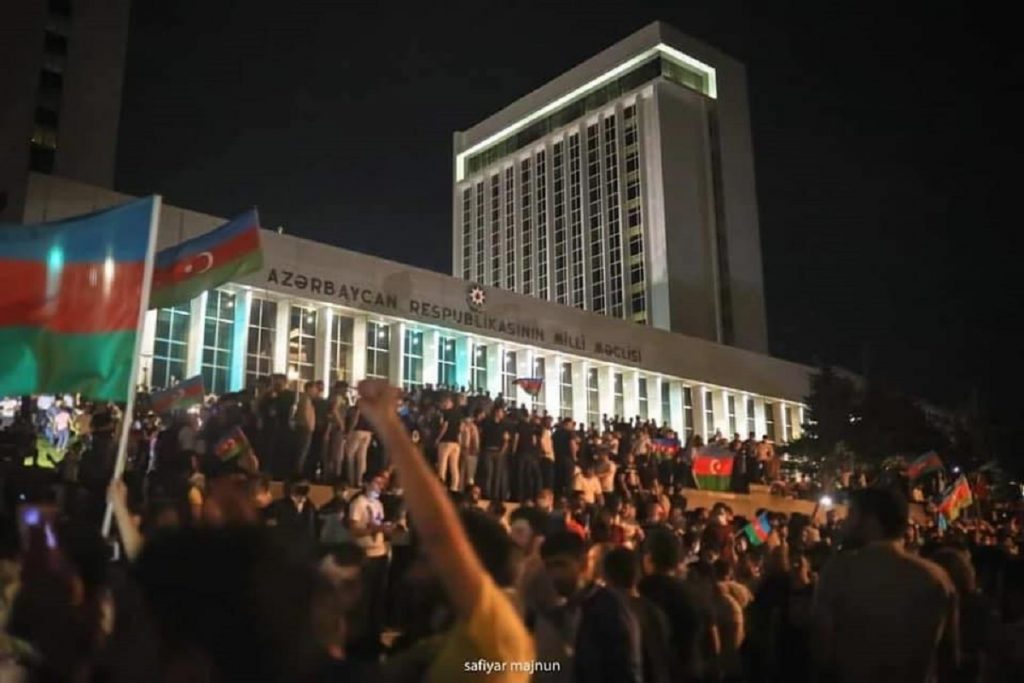 "Seymur Akhmedov writes that … a man in civilian clothes beat him for hours in the building of the Narimanov district police station," blogger Nihad Huseyn said.
19.00 / August 1
Political prisoner Fuad Qahramanli may have died from torture in a Baku prison on August 1, local social media write. There is no official confirmation or evidence yet.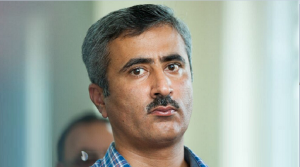 Fuad Qahramanli is one of more than 45 members of the opposition Popular Front Party of Azerbaijan who were detained after the July 15 rally in Baku in support of the army.
"Ilham Aliyev [President of Azerbaijan], if something happens to the people you have arrested, you are responsible for it," his ex-wife Zumrud Yagmur wrote on her Facebook page.
While no official confirmation has been given, a number of messages to effect have been published, amongst others by well-known investigative journalist Khadija Ismail:
"Various sources say that PFPA executive director Fuad Qahramanli was tortured. There is also information that he is dead. Lawyer Bahruz Bayramov was not allowed to see him from the moment of his arrest.
"Two other party members, Baba Suleiman and Seymur Akhmadov, were also severely tortured and threatened with rape. Baba reportedly agreed to sign false statements against party chairman Ali Karimli after being tortured.
"We try to check the reports. Lawyers are not allowed to see their clients, and there is no effective mechanism against torture in Azerbaijan."
Azerbaijani bloggers have recently begun to conduct a daily report in two areas: statistics on coronavirus and the number of oppositionists detained by the authorities.
The 45 opposition activists who were recently arrested were initially charged with illegal protests during the rally in support of the army on the night of July 15.
However, the charges then escalated, and some of the detainees are now charged with 'attempting to overthrow the government'.
The post Azerbaijani Ombudsman denies death of political prisoner. New reports of torture in prisons. Updated appeared first on English Jamnews.
At 60 and with new rulers, Mali once again at a crossroads
Sixty years since independence, Mali, once again, stands at a crossroads.
The new military rulers who last month overthrew embattled President Ibrahim Boubacar Keita named on Monday former Defence Minister Bah Ndaw president of a transitional government, tasking him with leading the country to elections. Colonel Assimi Goita, head of the group of soldiers behind the August 18 coup, was appointed vice president.
The announcement, made on state television on the eve of the 60th anniversary of the proclamation of the independent Republic of Mali, marked the latest twist in a deepening saga with major implications for a fragile country at the heart of the battle against armed groups in the wider Sahel region.
It was not immediately clear whether the appointment of the 70-year-old Ndaw would please the Economic Community of West African States (ECOWAS) regional bloc, which for weeks now has been pushing for a transition to civilian rule. Fearing that the unconstitutional transfer of power may set an example domestically and compromise international efforts to contain the worsening security crisis that has spread beyond Mali's borders, regional leaders have sought to pressure the military government by cutting off money flows and imposed sanctions.
Yvan Guichaoua, a Sahel expert at the University of Kent's Brussels School of International Studies, said Ndaw's appointment was "good news" as political heavyweights with electoral ambitions appeared unwilling to step forward due to a ban on transitional leaders that prevents them from running in the next polls.
Describing him as "a lesser-known figure with a reputation of decency", Guichaoua said his profile "looks acceptable by the domestic political forces and the international community.
"The ECOWAS wanted a civilian president and Ndaw meets this criterion, even though he is retired military," he added. "We're now getting closer to having a functional institutional architecture able to govern Mali, in which the junta will, in any case, remain highly influential."
Andrew Lebovich, a policy fellow with the European Council for Foreign Relations, said that while N'Daw is generally seen as a well-respected figure, it may be too soon to determine if his nomination is a positive development. 
"Naming the transitional president is just one step in a long process of necessary reforms and government actions that have not yet been taken," Lebovich said. 
"We also don't know yet what his priorities may be as transitional president, and given that the CNSP leader Col. Assimi Goita will be Vice President of the transitional government, it's clear the junta will maintain an active presence within the transitional government."
France, the former colonial power which has for years spearheaded international military efforts against armed groups in the region, had also called for a swift handover. But it had also had to tread a careful path, condemning the coup while at the same time tempering its criticism of the military officers who removed 75-year-old Keita – a leader who appeared to be on a good footing with Paris but faced growing opposition at home due to the country's persistent economic malaise and spiralling security crisis.
"Having been seen as supporters of Keita, their (France's) position is weakened in Mali," said Jean-Yves Haine, a professor at the Sorbonne Nouvelle university and ILERI school in Paris.
There was no immediate reaction by France to the announcement about the new government, which is to be inaugurated on September 25.
Tumultuous history
A French colony since the late 19th century, Mali achieved independence in 1960, first in a federation alongside Senegal on June 20, 1960, and then becoming a country in its own right on September 22 of that year following the secession of its neighbour the month before.
Since then, the West African country has retained strong relations with France as it experienced alternate cycles of political stability and instability, punctuated by rebellions, financials woes and military coups -several of them.
Its very first president, Modibo Keita, was overthrown in 1968 by Moussa Traore, a young army lieutenant who met the same fate nearly a quarter of a century later. Buoyed by widespread anger at the government, Lieutenant Colonel Amadou Toumani Toure in 1991 led a coup against Traore. But unlike Traore, Toure quickly withdrew from public life – auguring the country's longest period of democratic governance – only to return some 10 years later to successfully run for the presidency.
With a month left to his second term in office, however, Toure himself was toppled in 2012 amid dissatisfaction about the government's response to a surge in rebel activity in the country's north. The overthrow and killing of Libya's Muammar Gaddafi the previous year led many Tuareg rebels who had headed to the neighbouring country to fight on the side of its longtime ruler to cross the Sahara and return to Mali, bringing them with an ample stock of weapons and military trucks.
Taking advantage of the political turmoil in the capital, Bamako, the battle-hardened separatists from the marginalised Tuareg community, allied with an al-Qaeda offshoot, quickly overran much of the country's north. But the rebellion was quickly hijacked by armed groups, which seized control of major northern cities.
With the fighters advancing towards the south, the alarmed the interim authorities in the capital, Bamako, appealed to France for help.
"They (armed groups) are seeking to deal a fatal blow to the very existence of Mali," then-French President Francis Hollande said in January 2013 as he announced the launch of Operation Serval to beat back the fighters. "France, as is the case with its African partners and all of the international community, cannot accept this," he added.
The French-led military operation helped dislodge the al-Qaeda-linked fighters, paving the way for elections in 2013 which brought Keita – also known by his initials, IBK – to power.
Violence, however, severely escalated during Keita's seven years in office, with large parts of Mali still remaining beyond government control.
'Original sin'
Despite a multitude of regional and international forces active in the Sahel – including France's Operation Barkhane, whose roughly 5,000 troops are mostly based in the north and east of Mali – the armed groups have managed to proliferate and strengthen their foothold across the semi-arid region south of the Sahara.
Attacks have jumped fivefold since 2016, with thousands of people killed and hundreds of thousands displaced amid a drastically devolving situation in Mali's volatile central region.
The failure to restore stability after years of military efforts has fed into a growing anti-French sentiment in Mali, with critics denouncing the military presence of the former colonial power in the country and growing suspicious of its role in the wider region.
"In Bamako, [anti-French sentiment] emanates from sections of the political landscape most attached to Mali's sovereignty, which won't accept French interference in Malian affairs," said Guichaoua.
"They accuse France of having stopped the return of the Malian forces in Kidal in 2013, when France drove out the jihadi coalition that had occupied northern Mali in 2012, in order to let the separatists regain their stronghold."
Describing it as a domestic issue, France did not take on the Tuareg, who remained in control of their bastion of Kidal, a Sahara outpost near Mali's border with Algeria.
Guichaoua said that, while this could be considered the "original sin" of the French in the eyes of some sections of Mali's population, those in Kidal also contested France's presence on account of the war and the way it is being waged.
Late last year, a series of anti-France protests prompted French President Emmanuel Macron to call on countries in the region to express public support for Paris's expensive operation, threatening to withdraw its 4,500 troops, before changing tack and committing an additional 600 soldiers.
Following last month's coup, France, as well as the United Nations peacekeeping mission in Mali, have declared they will continue operations in the country during the transitional period.
And while Mali's new kingmakers might still align with the French militarily, it remains to be seen whether Paris will still be able to influence political developments.
"The junta is not aligned with the M5-RFP, the anti-IBK coalition which has in its midst some vocal anti-French figures," said Guichaoua, referring to the opposition alliance that led weeks of relentless street protests calling for the resignation of the former president.
"The junta is made of pragmatic leaders, whose stance towards the French is open but might also depend on the ability of the M5-RFP to push its agenda."
For Haine, this is where the crux of the problem lies. He said progress on the political and economic fronts must be made if the military intervention is to produce any positive result.
"Military solutions to fight terrorism are only part of a larger strategy. Political stabilisation, public support, institutional strength and above all, socioeconomic conditions are key elements for an external intervention to succeed."
Belgium tops 100,000 cases; world nears 1m COVID-19 deaths: Live
Australia reported 14 new coronavirus cases on Sunday – the lowest daily increase in new cases in three months as strict lockdown in Melbourne reduces infections sharply.
Brazil and Argentina have announced that they are joining a global alliance seeking to pool the purchase and distribution of future COVID-19 vaccines.
Despite threats of heavy fines up to almost $1,300, more than a thousand people gathered in central London to protest, defying lockdown measures aimed at slowing the resurgence of COVID-19.
More than 30.8 million people around the world have been diagnosed with the novel coronavirus and almost 957,000 have died, according to Johns Hopkins University. More than 21 million people have recovered.
Here are the latest updates:
Sunday, September 20
23:10 GMT – France reports 10,569 new coronavirus cases
France's health ministry has reported 10,569 new coronavirus cases, as the country faces a resurgence, bringing the total number of infections to 453,763.
The number of new cases is slightly lower than the previous day's record of 13,498.
At least 311 new deaths were also reported, bringing the death toll to 31,585, the ministry added.
20:15 GMT – London Mayor Khan urges swift action to halt COVID-19 spread
London Mayor Sadiq Khan wants fast action to halt the worsening spread of COVID-19 in London, a spokeswoman for Khan said, adding that it was better to move too early than too late.
"The situation is clearly worsening," the spokeswoman said, adding that Khan would meet council leaders on Monday and any London-specific lockdown measures would be recommended to ministers following that.
19:44 GMT – US CDC reports 198,754 deaths from coronavirus
The United States Centers for Disease Control and Prevention reported 6,748,935 cases of the new coronavirus, an increase of 42,561 cases from its previous count, and said the number of US deaths had risen by 655 to 198,754.
The CDC figures do not necessarily reflect cases reported by individual states.
19:15 GMT – Lebanon reports record 1,006 COVID-19 cases in 24 hours
Lebanon said it confirmed 1,006 new novel coronavirus cases and 11 deaths from related COVID-19 disease in 24 hours, in a new record for the crisis-hit country.
The figures from the health ministry brought Lebanon's total tally since February to 29,303 COVID-19 cases, including 297 deaths.
One man's journey to heal the scars of Beirut's blast
Outgoing health minister Hamad Hassan told television channel Al Jadeed that he had called for authorities to impose a new two-week lockdown to combat the virus's spread.
Cases have spiked in the aftermath of a massive explosion at the Beirut port on August 4 that killed more than 190 people and overwhelmed the capital's health services with thousands of wounded.
18:55 GMT – Brazil: Cemetery monument commemorates COVID-19 victims
A three-tonne monument was dedicated at a cemetery where many of Rio de Janeiro's COVID-19 victims have been buried.
The Infinity Memorial, a 39-metre (128-foot) long ribbon of undulating steel, was erected to pay tribute to those who died from coronavirus and to provide families with a symbol of their loss in one of the worst-affected cities in Brazil.
Rio de Janeiro state reached more than 17,600 deaths and more than 250,000 confirmed cases of COVID-19 on Saturday, second only to Sao Paulo state in Brazil.
The names of 4,000 of those who died will be inscribed on the structure.
17:15 GMT – France reports 10,569 new daily COVID-19 cases
French health authorities reported 10,569 new confirmed COVID-19 cases, down from the previous day's record increase of 13,498.
The number of people in France who have died from COVID-19 infections has risen to 31,585 from the 31,274 published on Saturday, the health ministry said.
The cumulative number of cases now stands at 453,763
15:40 GMT – Madrid braces for partial lockdown as virus surges
Nearly a million Madrid residents were bracing for a partial lockdown with several hundred marching in protest as Spanish authorities seek to put a brake on a second wave of COVID-19 cases.
The restrictions, which take effect Monday for two weeks, affect 850,000 people living mainly in densely-populated, low-income neighbourhoods in the south – or 13 percent of the 6.6 million people living in and around Spain's capital.
Like many countries in Europe, Spain is battling a coronavirus surge and, once again, Madrid is the worst-hit region.
Several districts of southern Madrid have counted more than 1,000 cases per 100,000 inhabitants – around five times the national average, which in itself is the highest in the European Union.
15:10 GMT – US sets record with over one million coronavirus tests in a day
The United States set a one-day record with over one million coronavirus diagnostic tests being performed, but the country needs 6 million to 10 million a day to bring outbreaks under control, according to various experts.
The country performed 1,061,411 tests on Sunday, according to data from The COVID Tracking Project, a volunteer-run effort to track the outbreak.
The record comes after testing has fallen for several weeks.
The US tested on average 650,000 people a day in the week ended September 13, down from a peak in late July of over 800,000 people a day.
14:14 GMT – Coronavirus found on imported squid packaging in China
Authorities in China's northeastern Jilin Province have found the novel coronavirus on the packaging of imported squid, health authorities in the city of Fuyu said, urging anyone who may have bought it to get themselves tested.
One of the packages had arrived in the city via the provincial capital Changchun, Fuyu city's health office said on its official WeChat account.
Chronicles of a Pandemic | People and Power
It asked people who had bought and eaten imported squid at the local Sanjia Deda frozen seafood wholesale shop between August 24 and August 31 to report to neighbourhood authorities and seek a COVID-19 test.
The Changchun COVID-19 prevention office said the squid had been imported from Russia by a company in Hunchun city and brought to the provincial capital.
Chinese customs said on Friday that they would suspend imports from companies for a week if frozen food products tested positive for coronavirus and for a month if a supplier's products tested positive for a third time or more.
12:07 GMT – Czech government could declare state of emergency, says minister
The Czech government could declare a state of emergency if a recent spike in coronavirus cases continues in the coming days, Health Minister Adam Vojtech said.
"Should we need to have some deeper measures [against the epidemic], then the emergency state will be necessary," Vojtech said in a televised debate.
The government should debate this step on Monday, Vojtech said, added that he would not yet propose the declaration of a state of emergency.
"We have not seen an escalation. The 'R' [reproduction] number is around 1.6. We will have to assess it based on weekdays when more tests are done," he said.
The 'R' number measures how many people are likely to get infected by one person who carries the virus.
11:48 GMT – UK imposes up to $13,000 fine for breaking COVID-19 rules
People in the United Kingdom who refuse to self-isolate to stop the spread of the coronavirus could face fines of up to 10,000 British pounds ($13,000) under tough new regulations to tackle a surge in cases.
Prime Minister Boris Johnson said that from September 28, people in the UK will be legally obliged to self-isolate if they test positive or are told to by the National Health Service tracing programme. 
11:45 GMT – Belgium cases surpass 
100,000 following sharp increase
Belgium passed the 100,000 milestone of infections following a sharp increase in cases in recent weeks, according to figures from the research institute Sciensano.
The trend accelerated markedly in the first half of September, reaching an average of 1,000 new daily infections during the week of September 9 to 15, according to the data.     
09:59 GMT – Tunisia, Bahrain, report new cases and deaths
Health authorities in Tunisia and Bahrain reported additional coronavirus fatalities.
The Tunisian Health Ministry said 17 people had died from COVID-19, taking the country's death toll to 155.
The virus infected 625 people over the past 24 hours, taking the total number to 9,736, while recoveries rose to 2,386, the ministry statement said in a statement.
In Bahrain, the health ministry said the nationwide death toll rose to 221 after five people died from the virus, while 2,856 new infections were registered, taking the total count to 64,499. The country reported 57,299 recoveries.
08:40 GMT – UK health minister: Second national lockdown possible
United Kingdom Health Minister Matt Hancock said a second national lockdown was one possible step to curb the spread of the coronavirus, but it was not what he wanted to happen.
"If everybody follows the rules then we can avoid further national lockdowns, but we, of course, have to be prepared to take action if that's what's necessary," Hancock told the BBC.
"I don't rule it out, [but] I don't want to see it," he said.
08:30 GMT – Indonesia reports 3,989 new infections, 105 deaths 
Indonesia reported 3,989 new coronavirus cases, taking the total to 244,676, data from the country's health ministry showed.
The data added 105 new deaths, taking the total to 9,553, the biggest death toll in Southeast Asia. 
08:25 GMT – South Korea keeps social-distancing curbs ahead of major national holiday
South Korea extended level-two social distancing for a week until September 27, which limits indoor gatherings to below 50 people and outdoor ones to less than 100, and may tighten limits for the Chuseok holiday, when people traditionally reunite with families.
Prime Minister Chung Sye-kyun said the level-two restrictions need to be kept ahead of Chuseok as "cases with untraceable origins are steadily increasing and fewer tests being carried out on weekends means we should be on high alert".
Social-distancing policies for the September 30-October 2 holiday will be announced in the coming days.
South Korea reported 82 new cases as of midnight Saturday, the lowest daily infections since mid-August, according to the Korea Centers for Disease Control and Prevention.
07:22 GMT – 

Czech republic's daily count of new cases drops to 2,046

The Czech Republic's daily count of new coronavirus cases dropped to 2,046 on Saturday – still a record number for a weekend day when fewer tests are done, data from the Health Ministry showed.

The overall count of confirmed cases rose to 48,306 in the country of 10.7 million people.

The Czechs have been reporting new cases of the infection at one of Europe's fastest paces in recent weeks and the authorities have returned to some of the measures used in spring when the pandemic first reached the country. 
07:19 GMT – 

Indonesia halts exports from seafood producer after virus tests

Indonesia has suspended exports from Indonesian seafood company PT Putri Indah into China after its frozen fish products tested positive for the coronavirus, the country's fisheries ministry said in a statement.

The ministry said that an investigation was under way and that the suspension would only apply to PT Putri Indah "whereas the others can still do export activities as usual".

The virus was detected on the outermost side of the package, not on the fish, the ministry said.

The seven-day suspension began on Friday, it said.

Hello, this is Farah Najjar taking over from my colleague Ted Regencia.
05:45 GMT – WHO endorses protocol for virus herbal medicine trials
The World Health Organization has endorsed a protocol for testing African herbal medicines as potential treatments for the coronavirus and other epidemics.
WHO experts and colleagues from two other organisations "endorsed a protocol for phase III clinical trials of herbal medicine for Covid-19 as well as a charter and terms of reference for the establishment of a data and safety monitoring board for herbal medicine clinical trials," a statement said, according to an AFP new agency report.
"Phase III clinical trials are pivotal in fully assessing the safety and efficacy of a new medical product," it noted.
05:14 GMT – India's coronavirus infections surge to 5.4 million
India's federal health ministry reported 92,605 new infections in the last 24 hours, raising the total number of cases to 5.4 million – second only to the United States.
India also reported 1,113 new deaths, taking the death toll to 86,752 – or about 1.6 percent of all cases.
04:34 GMT – Italy reports 1,638 COVID-19 cases
The Italian health ministry reported another 1,638 new cases of coronavirus, bringing the number of cases to more 297,000.
The government also added 24 deaths with the total toll rising to 35,692 – the second highest in Europe next to the United Kingdom.
04:10 GMT – Greece reports 240 coronavirus cases, four deaths
Greek authorities have announced 240 coronavirus cases, bringing the total number of cases to 14,978. 
Greece also reported four deaths, raising the death toll to 331.
03:38 GMT – Australia reports lowest COVID-19 cases in three months
Australia looked set to record its lowest daily increase in new coronavirus cases in three months on Sunday as a hard lockdown in the city of Melbourne brought cases in the country's virus epicentre down sharply.
Victoria – the second-most-populous state, of which Melbourne is the capital – reported 14 new infections in the 24 hours to Sunday morning, down from 21 new cases the day prior and its lowest since June 19, according to Reuters news agency.
That put Victoria, which has spent months under lockdown to slow a second wave of infections, on track to meet a target of keeping average daily increases below 50 by September 28, when the authorities have said they may lift restrictions.
03:20 GMT – Germany's reports 1,345 new coronavirus cases
Germany's agency for infectious diseases has reported at least 1,345 new coronavirus cases, raising the country's total to 271,415.
The Robert Koch Institute also reported two new deaths, with a total death toll of 9,386.
02:29 GMT – Brazil reports 33,057 new COVID-19 cases, 739 deaths
Brazil's health ministry has recorded 33,057 additional confirmed cases of the novel coronavirus in the past 24 hours, bringing the total number of cases to more than 4.5 million. 
Brazil also reported 739 additional deaths for a total death toll of more than 136,000 – the second-highest in the world next only to the United States.
02:18 GMT – China reports 10 new COVID-19 cases
China's National Health Commission has reported 10 new coronavirus cases, bringing the total number of cases to almost 85,300.
All new cases were imported. At least 21 cases were also reported as "asymptomatic".
No new deaths were reported, keeping the death toll at 4,634.
01:40 GMT – Mexico reports 5,167 new coronavirus cases, 455 new deaths
Mexico's health ministry has reported at least 5,167 additional coronavirus cases, bringing the total to 694,121 cases.
At least 455 new deaths were also reported pushing the death toll to 73,258. Earlier, the government has reported an estimated 120,000 "excess deaths".
01:10 GMT – South Korea reports lowest daily infections in almost 40 days
South Korea's Centers for Disease Control and Prevention has reported 82 new coronavirus cases – the lowest daily infections since mid-August.
Of the new cases reported, at least 72 were local transmission. The country has a total of 22,975 infections with 383 deaths.
00:35 GMT – Brazil, Argentina join COVID-19 vaccine alliance
Brazil and Argentina have announced that they are joining a global alliance seeking to pool COVID-19 vaccines, after missing an earlier deadline.
Peru said it signed a deal giving the country access to 12 million doses of coronavirus vaccine through the COVID-19 Vaccines Global Access Facility (COVAX), a scheme for pooled purchase and distribution of future vaccines.
Argentina asked for more time to prepare the required paperwork, but it expects on Wednesday to sign its commitment to the vaccine mechanism led by the World Health Organization (WHO), a health ministry official told Reuters news agency.
The Brazilian government said in a statement late on Friday that it will sign up for COVAX after negotiations with Gavi, the Vaccine Alliance, which is the COVAX secretariat.
00:05 GMT – Italy to allow fans at football games from Sunday
Beginning on Sunday, Italian football arenas will open their doors to a limited number of spectators, as the country managed to avoid a resurgence in coronavirus cases.
Sports Minister Vincenzo Spadafora announced that up to a thousand supporters will be able to attend Serie A soccer matches nationwide, after the regional governments, the sports departments and football clubs reached an agreement.
00:01 GMT – France's economy minister tests positive of COVID-19
French Economy Minister Bruno Le Maire has announced that he has contracted the coronavirus – this as the country's number of infections is surging anew with nearly 13,500 new infections in 24 hours.
Le Maire said that he has so far not shown any symptoms but is under quarantine due to the disease. He is the fourth French minister to test positive of COVID-19.
France has over 467,000 cases and more than 31,200 deaths.
_________________________________________________________________
Hello and welcome to Al Jazeera's continuing coverage of the coronavirus pandemic. I'm Ted Regencia in Kuala Lumpur, Malaysia. 
For all the key developments from yesterday, September 19, go here.
Biden blasts Trump's plan for Supreme Court vacancy
Democratic presidential candidate Joe Biden has urged Senate Republicans not to vote on any candidate nominated to the Supreme Court as the November election approaches, calling his rival Donald Trump's plan an "exercise in raw political power."
Biden was speaking on Sunday, the day that a second Senate Republican voiced objections to Trump's plan to vote quickly on a replacement to liberal Justice Ruth Bader Ginsburg, who died on Friday. Such an appointment by the president, if approved by the Senate, would cement a 6-3 conservative majority that could influence American law and life for decades.
"Voters of this country should be heard … they're the ones who this Constitution envisions should decide who has the power to make this appointment," Biden said in Philadelphia. "To jam this nomination through the Senate is just an exercise of raw political power."
"I appeal to those few Senate Republicans, the handful who really will decide what happens," Biden added. "Please follow your conscience. Don't vote to confirm anyone nominated under the circumstances President Trump and Senator [Majority Leader Mitch] McConnell have created. Don't go there."
Trump on Saturday promised to nominate a woman and said he will make his nomination this week, naming federal appeals judges Amy Coney Barrett and Barbara Lagoa as possible candidates to fill the vacancy created by the death of liberal icon Ruth Bader Ginsburg on Friday.
"I will be putting forth a nominee next week. It will be a woman," Trump said at a campaign rally in Fayetteville, North Carolina, where supporters chanted "fill that seat".
"I think it should be a woman because I actually like women much more than men," he said.
The death of Ginsburg could affect the November election, with Republican brass promising to vote on an appointee before voters go to the polls, despite resisting a similar election-year nomination by Democrats in 2016.
The vacancy has brought new urgency to perennial social issues like gay rights, voting rights, religious rights, abortion rights, and gun rights, which could be reshaped for years to come by a resounding conservative majority.
Ginsburg's death has also raised the stakes on the upcoming Senate elections, with attention turning to how voters will respond to Republican's actions in the weeks to come.
Second Republican opposes pre-election vote
With a 53 to 47 majority, at least four Republican senators would need to break from party ranks and vote against a Trump nominee to thwart the current plan. The vice president casts the deciding vote in the event of a tie.
On Sunday, Lisa Murkowski, a senator from Alaska, became the second Republican in the chamber to oppose voting on a nominee before the November election.
Susan Collins, a Senator from Maine, said on Saturday she would not support replacing Ginsburg before the election.
My statement on the Supreme Court vacancy: pic.twitter.com/jvYyDN5gG4

— Sen. Susan Collins (@SenatorCollins) September 19, 2020
Senator Mitt Romney, the sole Republican to vote against the president in an impeachment trial earlier this year, is also considered a potential opponent to the move.
Meanwhile, Senator Lindsey Graham, who staunchly opposed voting on a Supreme Court justice candidate nominated by then-President Barack Obama in 2016, said on Saturday he supported the Republican plan to move forward with the pre-election vote.
'Back from the brink'
During his speech, Biden cast the conflict over the nomination as bringing the country to the precipice of fundamental changes to social issues shaped by the court: "The right to health care, clean air, clean water, environment, equal pay for equal work, the rights of voters, immigrants".
"Right now, our country faces a choice, a choice about whether we will come back from the brink," Biden said.
The former vice president also emphasised Trump's attempts to overturn the Obama-era Affordable Care Act, the likelihood of which is expected to increase substantially with a more a conservative Supreme Court.
Biden connected the attempt to repeal the legislation, which prohibits insurance companies from denying coverage based on a pre-existing condition, directly to the coronavirus pandemic.
"Donald Trump is before the Supreme Court trying to strip health care coverage away from tens of millions of families, strip away the peace of mind of more than 100 million Americans with pre-existing conditions," Biden said.
"It's complications from COVID-19 like lung scarring and heart damage that become the next deniable pre existing condition for over 6 million Americans who have already contracted the disease." he said.
'Incredibly dangerous'
Earlier on Sunday, Republicans and Democrats sparred over the way forward, with Senator John Barrasso, a Republican speaking on NBC, brushing off Democratic complaints about the nomination process.
"Let's be very clear – if the shoe were on the other foot and the Democrats had the White House and the Senate, they would right now be trying to confirm another member of the Supreme Court," Barrasso said.
Meanwhile, Democrat Hillary Clinton, whom Trump defeated in the 2016 election, called Barrasso's view "indefensible".
"What's happening in our country is incredibly dangerous," said Clinton, a former secretary of state whose husband, Bill Clinton, nominated Ginsburg to the court in 1993.
"Our institutions are being basically undermined by the lust for power," she said.
Some observers have raised the prospect of Democrats "packing the court" – or increasing the number of judges on the court – if Republicans push through with a confirmation before the election and Democrats go on to take control of the Senate.
On Saturday, Senate Minority Leader Chuck Schumer told a conference call of Democrats that "nothing is off the table for next year" if Republicans are successful in their attempt, Reuters news agency reported on Sunday, citing an unnamed source who listened to the call.
Trump has already appointed two justices: Neil Gorsuch in 2017 and Brett Kavanaugh in 2018.