'Our Animals Are Dying': Water Goes Bad In Azerbaijani Village
Residents in the village of Banka in Azerbaijan say they lack basic water supplies for themselves and their animals after water in the Kura River dropped and became contaminated with salt water from the nearby Caspian Sea. Experts believe farming, a major hydroelectric plant upstream, and climate change could be to blame.Read Original Article here by RFERL
23 killed in Rio de Janeiro shootout
At least 23 people including a police officer have been killed in a shootout in Rio de Janeiro, according to local media.
Report informs, citing the BBC, that the shootout took place during a police operation in a favela in the Jacarezinho area of the city.
According to Civil Police, more than 200 officers were carrying out the operation to combat organised crime.
Two passengers on a metro train were hit by bullets but survived, O Globo newspaper said.
Civil Police in the city confirmed the death of one of their officers, police inspector Andre Leonardo de Mello Frias.
Subscribe to our Linkedin page
Kyrgyz president orders to modernize water intake on Tajik border
President of Kyrgyzstan Sadyr Japarov ordered the modernization of the Golovnoy water intake, which caused an armed conflict on the border with Tajikistan, Report informs, citing the press service of the Kyrgyz head of state.
The president said this on Thursday during his visit to the Batken region.
"Following the visit, the President instructed the relevant state bodies to modernize the technical state of the water intake," the message says.
Subscribe to our Twitter page
Azerbaijan's Presidential Administration Chief sets instructions on works in liberated areas
The regular 5th meeting of the Coordination Headquarters established by the Order of the President of the Republic of Azerbaijan dated November 24, 2020, for the centralized settlement of issues in the liberated territories took place in video format.
Opening the meeting, the head of the Presidential Administration and Staff Samir Nuriyev noted that the restoration and construction work in the liberated territories is always in the focus of the President's attention, and important areas for action have been identified.
Samir Nuriyev said that, as noted by President Ilham Aliyev, our cities and villages in our liberated lands were ruined by occupant Armenians, our historical and religious monuments were destroyed, which indicates the need for large-scale planning and restoration work.
Reports were heard, and respective instructions were given on the demining of the occupied territories, the preparation of the State Program "Restoration and sustainable development of the liberated territories of the Republic of Azerbaijan for 2021-2025", the return of former IDPs to their ancestral lands, energy supply in the affected areas, in particular, "Green Energy," construction of urban planning and transport infrastructure, the works held and the results of the survey as part of ADA University's research on the topic of "Preparation of proposals for forecasting and effective organization of repatriation to post-conflict areas of Azerbaijan."
The importance of carrying out work according to the instructions of the President, taking into account the combination of speed and quality, was stressed at the meeting.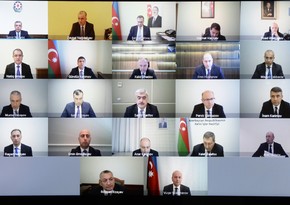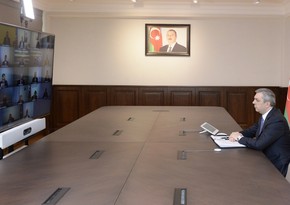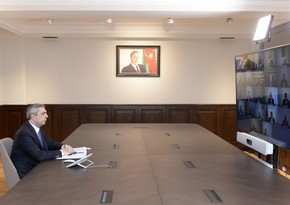 Subscribe to our Twitter page