Azerbaijan Demands Armenia Set Timetable For Troops Withdrawal
Azerbaijan Demands Armenia Set Timetable For Troops Withdrawal
Azerbaijani President Ilham Aliyev has demanded that Armenia set a timetable for withdrawing from Nagorno-Karabakh and surrounding Azerbaijani territories, saying that Azerbaijan would not end military action until that happened.
In a televised speech in the evening on October 4, Aliyev said Azerbaijani forces were advancing in a week-long offensive to retake territories that they lost to ethnic Armenians in the 1990s.
"Azerbaijan has one condition, and that is the liberation of its territories," he said. "Nagorno-Karabakh is the territory of Azerbaijan. We must return and we shall return."
Aliyev's speech comes as fighting continues between Azerbaijan and ethnic Armenian forces, killing and wounding hundreds of people, including many civilians from both sides. The latest clashes in the long-simmering conflict over the breakaway Nagorno-Karabakh region began on September 27.
Earlier on October 4, Azerbaijan's Defense Ministry said on October 4 that Armenian forces targeted Ganca, its second city, with missiles in an escalation of the war in the South Caucasus that broke out one week ago.
Armenia denied that it had directed fire "of any kind" toward Azerbaijan.
In statements posted on its website, the ministry in Baku said Ganca, a city of more than 330,000 in western Azerbaijan, and several other civilian areas were under fire from rockets and shelling. RFE/RL's Azerbaijani Service quoted the ministry as saying the Azerbaijani Army "is taking adequate retaliatory measures."
Defense Minister Zakir Hasanov said the shelling of Azerbaijan's territory from Armenia is an open provocation that expands the area of the battle and added that Azerbaijan took "retaliatory measures."
"Delivering fire on the territory of Azerbaijan from the territory of Armenia is clearly provocative and expands the zone of hostilities," Hasanov said.
The Azerbaijani cities of Terter and Goradiz had also been targeted, the ministry said.
It did not say what kind of measures it had taken, but Armenia said that Stepanakert, the main city of Nagorno-Karabakh, which has been under artillery fire since October 2, was hit again, and journalists on the ground reported that explosions were rocking the city.
Armenian officials published video footage showing burning buildings and vehicles in the aftermath of the attack on the city.
"Azerbaijani forces are shelling civilian targets in Stepanakert with rockets," Armenian Defense Ministry spokesman Artsrun Hovhannisian was quoted as saying.
Hovhannisian denied that Armenia had targeted Ganca, but Nagorno-Karabakh's de facto leader, Arayik Harutiunian, said his forces had destroyed a military air base in Ganca.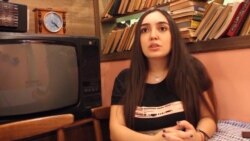 Embed share
Embed share The code has been copied to your clipboard. width px height px
The URL has been copied to your clipboard
No media source currently available
WATCH: The Azerbaijanis And Armenians Demanding Peace Instead Of War
Azerbaijan on October 4 claimed to have wounded Harutiunian in retaliation for the attack on Ganca, RFE/RL's Azerbaijani Service reported.
Hikmat Hajiyev, an aide to Azerbaijani President Ilham Aliyev, said Harutiunian was hiding in a bunker and was heavily wounded in a targeted attack. The claim could not be independently confirmed.
World powers have been calling for a cease-fire amid concerns that the violence could grow into a full-blown war between the archfoes and draw in regional powers Russia and NATO-member Turkey.
German Chancellor Angela Merkel demanded an immediate end to all fighting during a phone call with Armenian Prime Minister Nikol Pashinyan, her press office said on October 4.
Merkel also expressed concern about the ongoing fighting and growing number of victims.
Nagorno-Karabakh is internationally recognized as Azerbaijani territory, but it is controlled by ethnic Armenian separatists with close ties to Yerevan. Armenian forces hold control over seven regions adjacent to Nagorno-Karabakh.
Azerbaijan and Armenia have been locked in a conflict over the mountainous region since the waning years of the Soviet Union. They fought a war that ended in 1994 with an uneasy cease-fire and an estimated 30,000 killed.
With reporting by AFP, AP, Interfax, and Reuters
Information on destruction of Azerbaijani special forces is false: MoD
The information disseminated by the Armenian side about the alleged destruction of a large number of Azerbaijani special forces is nothing but the product of restless nightmares of the representatives of the Armenian Ministry of Defence.
Report was told in the Ministry of Defence, the various types of misinformation spread by Armenians vary depending on the blows they received during the battles.
The Azerbaijani troops destroyed Armenia's line of defense by inflicting strikes on them in all directions. Today, the Azerbaijani Army has destroyed scattered groups of volunteers and military equipment of the Armenian Armed Forces in Khojavend and Fuzuli directions of the front.
Video evidence will be provided later.
Subscribe to our Twitter page
Anar Eyvazov: "Our troops are in full control of operational situation"
"Currently, fighting continues in all directions of the front, and our troops are in full control of the operational situation."
Report informs, Spokesman for the Azerbaijani Defense Ministry, Lieutenant Colonel Anar Eyvazov has said.
"The victory march of the Azerbaijani Army continues. Victory is ours!" Eyvazov said.
Subscribe to our Linkedin page
Russian weightlifting champion A. Maskhadova disqualified for eight years
Five-time Russian weightlifting champion Amina Maskhadova has been disqualified for eight years for violating doping rules, the Russian Weightlifting Federation (RWF) reports.
Maskhadova, 35, is currently serving her eight-year ban slapped in 2016. The athlete was also disqualified for two years back in 2013. Maskhadova's next ban will start in August 2023 after the end of the current one.
The RWF also reported another ban for weightlifter Alexei Malyuk starting with December 3, 2019.
Maskhadova won the Russian championships in 2004, 2006, 2008, 2011, and 2013.
Subscribe to our Twitter page