Ilham Aliyev: Occupation of Kalbajar is the direct responsibility of then ruling Popular Front
The occupation of the Kalbajar district was a great tragedy as other regions. After the occupation of Shusha and Lachin districts in May 1992, the invasion of Kalbajar also created a geographical link between Armenia and Nagorno-Karabakh. Everyone knows that the former Nagorno-Karabakh Autonomous Region did not have a border with the Republic of Armenia. Armenia was separated from Nagorno-Karabakh by the Lachin district and the Lachin corridor. The occupation of Lachin, Shusha, and then Kalbajar districts created a geographical connection between Armenia and Nagorno-Karabakh over a large area, and this was the enemy's goal. After the occupation of Kalbajar, it is possible to say that communication was established between Armenia and Nagorno-Karabakh in many ways. First of all, weapons, equipment, and manpower were sent there from Armenia. At the same time, it provided significant advantages for Armenia's subsequent policy of aggression.
The occupation of the Kalbajar district is the direct responsibility of the then ruling Popular Front of Azerbaijan. In general, the main culprit in the occupation of our lands is the Popular Front of Azerbaijan. Because if they had not come to power illegally in 1992 if they had not staged a coup, perhaps our lands would not have been occupied. Of course, it is challenging to go back in history and say what could and could not have happened. But in any case, they have played a direct role in our lands' occupation, and they bear this responsibility. Because in the spring of 1992, the power struggle reached its peak. There were internal conflicts in Azerbaijan, chaos, crisis, a political crisis, and the power struggle led to severe consequences. Armenia continued to take advantage of this to occupy our lands. After the occupation of Shusha and Lachin, the situation reached a critical level. Taking advantage of this, the Popular Front of Azerbaijan came to power due to a coup. But what happened after that? After that, they focused all their efforts on strengthening the weakened government, organizing persecutions in our country, applying censorship, and taking other anti-democratic steps. Our lands were under occupation. Our civilian population was expelled from their ancestral lands. Still, the Popular Front of Azerbaijan and its leadership had only one goal – to fill their pockets, appoint their relatives, and prolong their lives government. The occupation of Kalbajar was the result of these ugly steps. It could not have been otherwise. The younger generation may not remember this, but they should know who was leading Azerbaijan and people of what knowledge and what skills were leading Azerbaijan. Those people had no experience. Those people – the people who were represented in the government at the time, the people who held high positions – had never led a single department, not a single small enterprise. How could they run the country, especially in a crisis? But their yearning for power, their greed, their appetite, and avarice led to this situation in Azerbaijan. Look who governed Azerbaijan at the time?! The speaker of parliament was a junior researcher, in fact, a failed researcher. The secretary of state was a careerist from the Komsomol who had betrayed his leader at a later stage, set his eyes for his post, rejoiced in his death more than anyone else, and lived his entire life under the control of foreign circles. What kind of management would you expect from them? What kind of patriotism would you expect from them? What professionalism would you expect? The minister of foreign affairs was a random person who couldn't speak any foreign language, a physics teacher, someone who had no idea what foreign relations are, what international norms and principles are. He walked around like a tourist and said what he wanted to say. The minister of defense was a math teacher. Can a math teacher be a defense minister? It was this math teacher who handed Shusha over to the enemy. He said that if Shusha was lost, he would shoot himself in the head. It is still hanging around here and there. We have returned Shusha, we did! You sold it, traitors.
There were widespread robberies, the minister of internal affairs, and journalists were getting arrested, beaten up, and thrown into the trunks of cars during live broadcasts. Such were the leaders of the Popular Front of Azerbaijan. The prime minister was a junior researcher on scientific communism. Look at these contrasts. The man responsible for advancing the country's economy based on a market economy was a junior researcher on scientific communism. What kind of governance, what kind of reforms, what type of defense could you expect? Our grief and tragedy are that random people came to power, usurped power, and took our country into the abyss.
If Heydar Aliyev had not come to power at the request of the people in 1993, Azerbaijan would not only have lost the remaining lands but would have also lost its statehood in general. They started a civil war to maintain their weakened government. They took our own soldiers prisoner. They bombed Ganja. Let no-one forget that! Those unaware should know this. The younger generation should know who caused us this trouble. Who is to blame for this tragedy? Who is to blame for the plight of a million people? The government of the Popular Front of Azerbaijan at that time. If we were to draw comparisons now, their collective image is like that of Pashinyan – incompetent, not knowledgeable, weak-willed, cowardly, deserter, inexperienced in management, influenced by foreign circles, ruled by them, and destroying their own country. Look, they are all like Pashinyan. Those who do not know them should look at Pashinyan if they want to get an idea about them. Let them look at his steps and see the image of the then Popular Front of Azerbaijan and the country's leadership.
Subscribe to our Linkedin page
Bahar Muradova meets with Jordanian ambassador
Chairperson of the State Committee for Family, Women, and Children Bahar Muradova met with the Ambassador of the Hashemite Kingdom of Jordan to Azerbaijan, Sami Asem Ghosheh, on January 21.
The committee told Report that Bahar Muradova expressed her gratitude for the meeting initiative and noted that cooperation between the two countries has historical roots.
The committee chairperson added that these relations were developing steadily and created opportunities for the further advancement of existing cooperation between the relevant agencies of the countries.
Informing about the historic victory of Azerbaijan, Muradova expressed hope that the position of both the Non-Aligned Movement and the Organization of Islamic Cooperation during the 44 days of the hostilities will continue in the post-war period. She expressed confidence that friendly relations will play an important role.
Expressing gratitude to the committee chairperson for the warm reception, Ambassador Sami Asem Ghosheh noted that the friendship between the two nations laid by National Leader of the Azerbaijani people Heydar Aliyev and Jordan's leader, the late King Hussein further strengthened owing to the sincere brotherhood between head of the Azerbaijani state Ilham Aliyev and King of Jordan Abdullah bin Hussein II.
The diplomat stressed that friendly and fraternal relations between Azerbaijan and Jordan are based on common traditions and Islamic values and underlined the importance of developing cooperation between our countries in the issues of family, women, and children, just like in other areas. Citing the projects implemented by the committee in this field as an example, Ambassador Ghosheh stressed his country's interest in holding joint events with Azerbaijan in the coming years.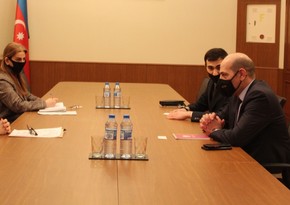 Subscribe to our Linkedin page
Footage from Kendyeri village of Kalbajar region
Defense Ministry has released a video footage of the Kendyeri village of the Kalbajar region.
Report presents the footage: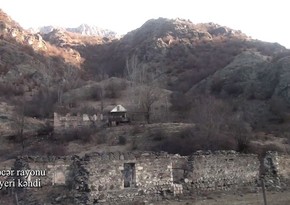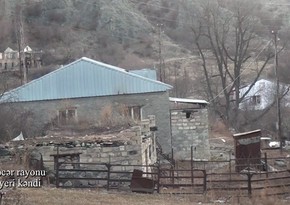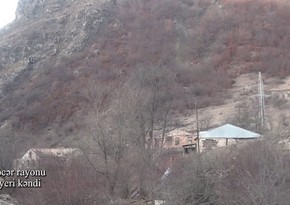 Subscribe to our Facebook page
Fatih Dönmez: "Turkey and Azerbaijan are negotiating new projects"
About 9.1 billion cubic meters of natural gas have been transported via the Trans-Anatolian Gas Pipeline (TANAP).
Report informs referring to the Turkish media, Turkish Minister of Energy and Natural Resources Fatih Dönmez said.
According to him, 4.9 billion cubic meters of natural gas was transported via TANAP in 2020: "On the one hand, TANAP provides significant support to the security of our country's natural gas needs, and on the other hand, it has become a leading provider of European demand. The strategic importance of TANAP and Azerbaijani gas will increase together with the Trans-Adriatic Pipeline (TAP).
The minister said that 24 percent of Turkey's natural gas imports last year fell to Azerbaijan. "We are cooperating in projects that will ensure the safe use of Azerbaijani natural gas, as well as projects that will deliver this gas to international markets."
Dönmez noted that new projects are being discussed between Turkey and Azerbaijan, especially in the fields of technology, education, and energy: "Work has already begun in this regard."
Subscribe to our Twitter page