Ayaz Museyibov: Military Equipment losses of Armenia amount to $ 3.8 bln
According to the minimal scenario assessment, the cost of Armenia's military equipment, destroyed or taken as trophies by the armed forces of Azerbaijan during the Second Karabakh War amounts to 3.8 billion US dollars.
As a result of the 44-days war, the enemy lost 10 S-300 installations and their various tactical combat vehicles, 366 tanks, 352 guns of different calibers, 22 unmanned aerial vehicles, 5 Su-25 aircraft, and 50 Tor, Osa, Kub, and Krug anti-aircraft missile systems.
At the same time, during the military operations, among the destroyed military equipment were 97 Grad installations, 4 Smerch installations, 2 Uragan installations, 1 TOS flamethrower, 1 Yars, and Tochka-U, ballistic missiles, and Elbrus missile systems. After the destruction of radar stations and assets that play a significant role in providing exceptional defense capability and weapons and ammunition depots, Armenia's ability to fight was completely undermined.
The destroyed military equipment includes the complexes that Armenia would not be able to acquire under any circumstances, taking into account its economic power, military capabilities, and international law. S-300 systems, costing hundreds of millions of dollars, ballistic systems, the sale and use of which are prohibited, as well as the Elbrus missile systems, can be emphasized as examples. Armenia's military spending for 2020 was approved at $ 716 million.
However, in just 44 days, Armenia's military losses increased the country's annual military spending by 5.3 times. From this point of view, according to estimates of military expenses and economic indicators, Armenia will need 38 years to rebuild the military infrastructure through the current expenditures of the military budget.
The cost of Armenia's military equipment destroyed during the Second Karabakh War showed that Armenia grossly violated the terms of the "Treaty on Conventional Armed Forces in Europe", which provides for the reduction of armaments in Armenia. It also demonstrated that the number of weapons and military equipment possessed by Armenia exceeded the limits. A country with a military budget of only $ 716 million has an arsenal worth billions of dollars not economically justified.
Thus, reserve assets of $ 2.32 billion do not allow Armenia to acquire those weapons. That again indicates that over the past 30 years, Armenia has been armed illegally and free of charge. It is no coincidence that military equipment and funds donated to Armenia led to its wealth's cession to third parties. Thus, as noted in the data of the US Central Intelligence Agency, the country, "stuck in a dead-end," is entirely dependent on third countries in the fields of energy, transport, logistics, and critical infrastructure.
"Humanitarian aid" to Armenia, collected from the first day of the war through Hayastan and other funds, speaks of Armenia's weakness in waging a resource war. It also indicates that Armenia had no potential to wage war with Azerbaijan and did not have independent economic and military power even under normal conditions. A forecasted economic decline of 7 % for this year, defeat in the war, a serious food security problem, a demographic crisis, a raging pandemic, and an ongoing political turmoil do not bode well for Armenia.
According to the Armenian intellectuals' opinion, a "humanitarian aid" of about $ 200 million and financial assistance from various countries will not be sufficient for a government "living one of the most disastrous days in its history". The establishment of normal relations with Azerbaijan and its ally Turkey is the only way out for Armenia, which will suffer from the "defeated country" syndrome for many years to come.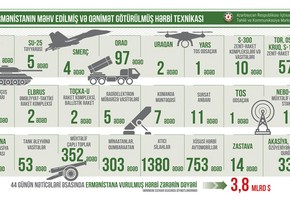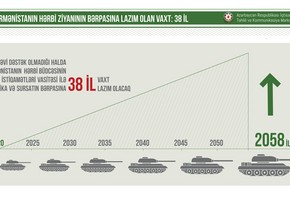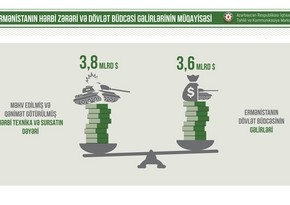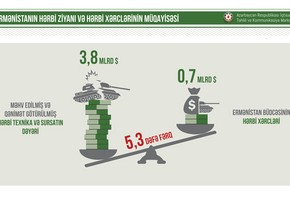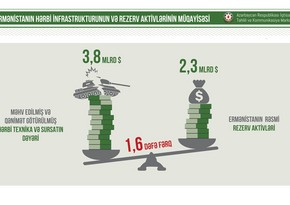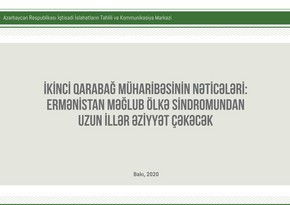 Subscribe to our Facebook page
Azerbaijan confirms 402 new Covid cases, 15 died
Azerbaijan recorded 402 new coronavirus cases, Task Force under the Cabinet of Ministers told Report.
As many as 650people recovered from the infection, while 15patients lost their lives over the past day.
So far, 226,951 people have contracted COVID-19 in Azerbaijan, 214,423 have recovered, while 2,998 died. At present, 9,530 people are receiving treatment.
Azerbaijan has conducted 2,311,417 coronavirus tests over the past period, including 8,574 today.
Subscribe to our Twitter page
Belarus FM, Azerbaijani ambassador moot development of bilateral ties
Minister of Foreign Affairs of Belarus Vladimir Makei met with Azerbaijani Ambassador Latif Gandilov on January 15. Report informs that press service of the Belarusian Ministry of Foreign Affairs told BelTA.
The parties discussed the schedule of upcoming bilateral visits at the highest and high levels.
Special consideration was given to trade and economic cooperation and its results in 2020. The parties exchanged information on the measures taken in the two countries to counter the spread of COVID-19.
The agenda of cooperation of the ministries of foreign affairs for 2021, including cooperation in international organizations, was also reviewed.
The parties also outlined the steps to further develop Belarus-Azerbaijan strategic cooperation in the political, trade, economic, and humanitarian areas.
Subscribe to our Linkedin page
Footage from Shelli village of Aghdam region
Defense Ministry has released a video footage of the Shelli village of the Aghdam region.
Report presents the footage: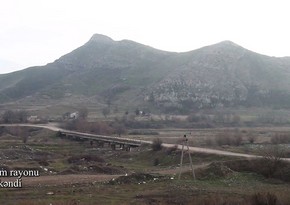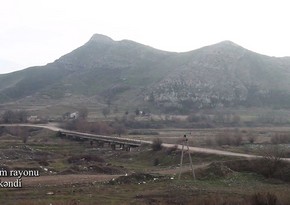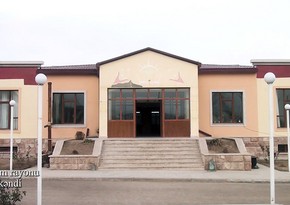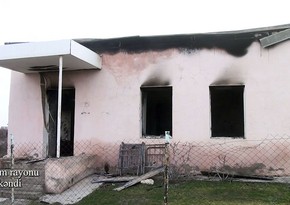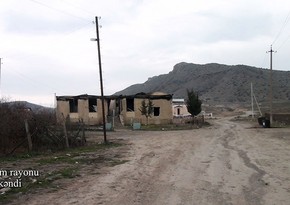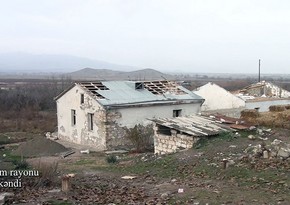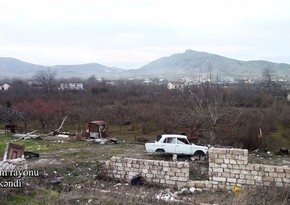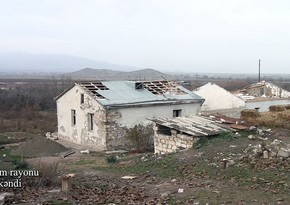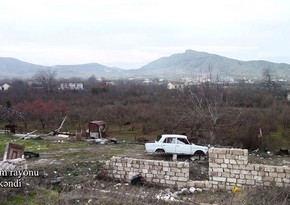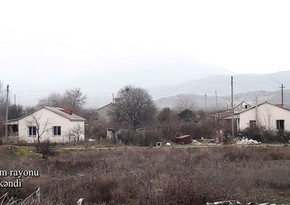 Subscribe to our Twitter page