Turkey, Pakistan sign important document on education
Turkey and Pakistan have inked a memorandum of understanding of the Turkish Education Foundation's status and activities., Report informs, referring to Anadolu.
The document was signed by Turkish Foreign Minister Mevlüt Çavuşoğlu and Pakistani Education Minister Shevket Mahmoud.
According to the memorandum, the Turkish Education Foundation will be recognized as an international NGO in Pakistan, and its investment and assets will be protected. At present, the organization has nine student dormitories and more than 1,800 employees in the country. The foundation educates more than 12,000 students on 27 campuses in 10 cities, including the Pakistani capital Islamabad.
The ministers met at the Pakistani Foreign Ministry in Islamabad. They discussed bilateral relations, regional and international issues.
Pakistani Foreign Minister Makhdoom Shah Mahmood Qureshi thanked Turkey for its position on Kashmir.
The meetings were held within the framework of the Turkey-Pakistan Strategic Economic Cooperation.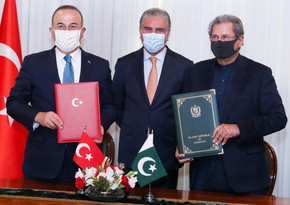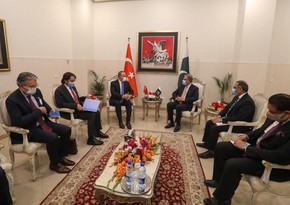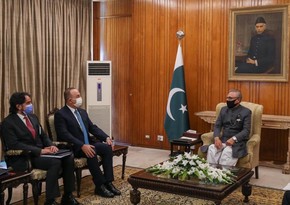 Subscribe to our Twitter page
Azerbaijan confirms 332 new Covid-19 cases, 12 died
Azerbaijan recorded 332 new coronavirus cases, Task Force under the Cabinet of Ministers told Report.
As many as 897 people recovered from the infection, while 12 patients lost their lives over the past day.
So far, 228,028 people have contracted COVID-19 in Azerbaijan, 217,617 have recovered, while 3,044 died. At present, 7,367 people are receiving treatment.
Azerbaijan has conducted 2,336,498 coronavirus tests over the past period, including 7,991 today.
Subscribe to our Linkedin page
EU Ambassador expresses condolences to families of 20 January victims
"On this day of sorrow, together with the people of Azerbaijan, the EU delegation is mourning the victims of the 'Black January' tragedy," said the head of the EU Delegation to Azerbaijan Kestutis Jankauskas.
"The tragic events underline the need for peace, reconciliation, and humanity for a better future. I express my deepest condolences to the families and loved ones of the victims of the January events," the EU ambassador added.
Subscribe to our Twitter page
Netflix to screen popular novel
US Netflix will screen Roald Dahl's Matilda, Report mentions, citing The Hollywood Report.
The film will star 11-year-old Alisha Weir. Oscar-winner Emma Thompson will play the role of Agatha Trunchbull, a cruel director in the novel.
According to the plot, Matilda is a wunderkind. But parents treat her with disdain, and the school principal makes fun of her. Matilda decides to reprimand them.
The previous screening of the tale took place in 1996. The film was directed by Danny De Vito and played by Mara Wilson.
Subscribe to our Facebook page