Armenia reports 12 new coronavirus deaths
Armenia confirmed 448 new COVID-19 cases, bringing the nationwide tally to 163,576, Report informs, citing the National Center for Disease Control and Prevention of the Ministry of Health.
The death toll has reached 2,963 as 12 moresuccumbed to the deadly pathogen. As many as 151,849 people have recovered from the infection so far.
There are currently 8,043 active coronavirus patients in the country.
The novel coronavirus (COVID-19) emerged in late 2019 in China's Hubei province and has spread to more than 200 countries and territories since then.
On February 11, the WHO officially named the 2019 novel coronavirus (2019-nCoV) as COVID-19, and on March 11, declared it a pandemic.
Subscribe to our Linkedin page
Russian servicemen in Karabakh hold anti-terrorist training
Russian peacekeepers regularly hold training at defense and observation posts in the Nagorno-Karabakh region of Azerbaijan, Report mentions, citing the Russian Defense Ministry.
The Russian military is also conducting anti-terrorist exercises in those areas.
Subscribe to our Twitter page
Over 100 protesters detained in Netherlands
Dutch police have arrested dozens of people for participating in a protest rally in Amsterdam over the government's crackdown on the COVID-19 epidemic, Report states, citing the Dutch Broadcasting Corporation.
According to police, a total of 1,500 people took part in the protest, which the city authorities banned. Security guards had to use batons and fire pumps to disperse the demonstrators. More than 100 people were detained for refusing to comply with law enforcement officers' demands during the rally.
Clashes between police and protesters continued after the demonstration was broken up in Museum square. They set fires in the city.
Problems were also observed in Eindhoven. Police in the city also had to use fire pumps and batons, as well as tear gas.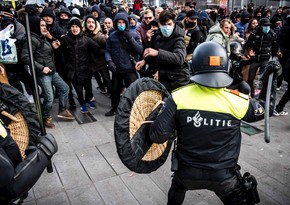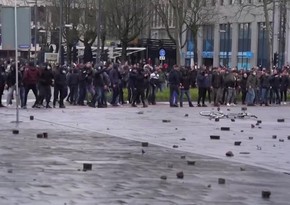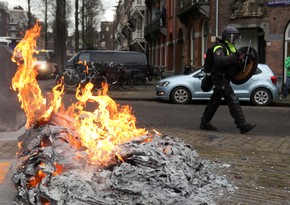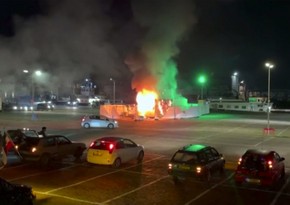 Subscribe to our Facebook page
Real Madrid unveils its decision on Luka Modric
Emilio Butragueno appeared to confirm that Luka Modric will sign a new contract at Real Madrid following their win over Alaves on Saturday, Report says.
MARCA has already broken the news that the Croatian will sign a new one-year deal at the Estadio Santiago Bernbeu, but there is yet to be an official announcement by the club.
"There are players like Modric who make this sport better," Real Madrid director Butragueno said after the win over Alaves.
"His pass to [Ferland] Mendy in the first half was a fine thing. It's a luxury for us to have him.
"He's given us so much; he's still giving us so much, and he'll continue to do so."
Zinedine Zidane was absent from the dugout at Mendizorroza following a positive COVID-19 test. The Frenchman has been under pressure of late after losses to Athletic Club and Alcoyano.
Subscribe to our Linkedin page