Jeyhun Bayramov plants tree in yard of Pakistani MFA
Azerbaijani Foreign Minister Jeyhun Bayramov planted a tree in the yard of the Pakistani Foreign Ministry during his visit to Islamabad, Report informs, citing the Twitter page of the Pakistani MFA.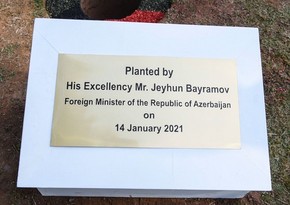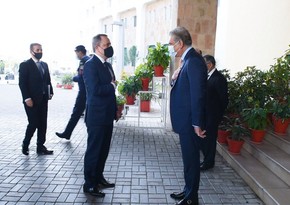 Subscribe to our Linkedin page
Fear listed among reasons for contracting coronavirus
Panic fear of the coronavirus can turn into real health problems, Report informs, referring to psychotherapist Igor Salyntsev.
In an interview with Sputnik radio, he said that the emotional and mental state of a person is reflected in physiology.
"The growing, excessive anxiety, if not dealt with, not treated, reduces the level of mental stability, metabolic processes in the body and its strength. Accordingly, immunity will decrease, and vulnerability to various pathologies will increase. An anxious person is more vulnerable, including to viral pathology," Salyntsev explained.
The doctor noted that the coronavirus vaccine would be the solution to two problems at once: it will both protect the body from COVID-19 and reduce the level of anxiety. It will remove the negative pressure on the immune system that makes the body vulnerable to any infection.
Moreover, the psychotherapist advised to stop paying attention to rumors about the coronavirus and try to get information only from reliable sources.
"The more informed a person is, the less anxious and afraid he or she is. People are afraid when they don't know something; they don't understand enough, or rely on inaccurate information and rumors," Igor Salyntsev explained.
Subscribe to our Twitter page
Russian servicemen in Karabakh hold anti-terrorist training
Russian peacekeepers regularly hold training at defense and observation posts in the Nagorno-Karabakh region of Azerbaijan, Report mentions, citing the Russian Defense Ministry.
The Russian military is also conducting anti-terrorist exercises in those areas.
Subscribe to our Twitter page
Over 100 protesters detained in Netherlands
Dutch police have arrested dozens of people for participating in a protest rally in Amsterdam over the government's crackdown on the COVID-19 epidemic, Report states, citing the Dutch Broadcasting Corporation.
According to police, a total of 1,500 people took part in the protest, which the city authorities banned. Security guards had to use batons and fire pumps to disperse the demonstrators. More than 100 people were detained for refusing to comply with law enforcement officers' demands during the rally.
Clashes between police and protesters continued after the demonstration was broken up in Museum square. They set fires in the city.
Problems were also observed in Eindhoven. Police in the city also had to use fire pumps and batons, as well as tear gas.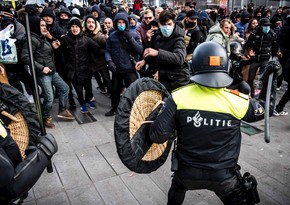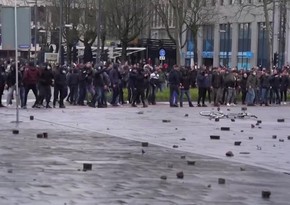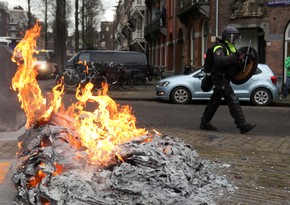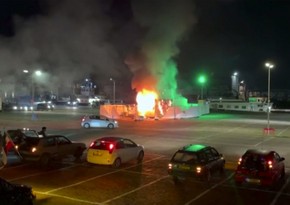 Subscribe to our Facebook page