Azerbaijan calls on citizens to get a shot of Covid-19 vaccine booster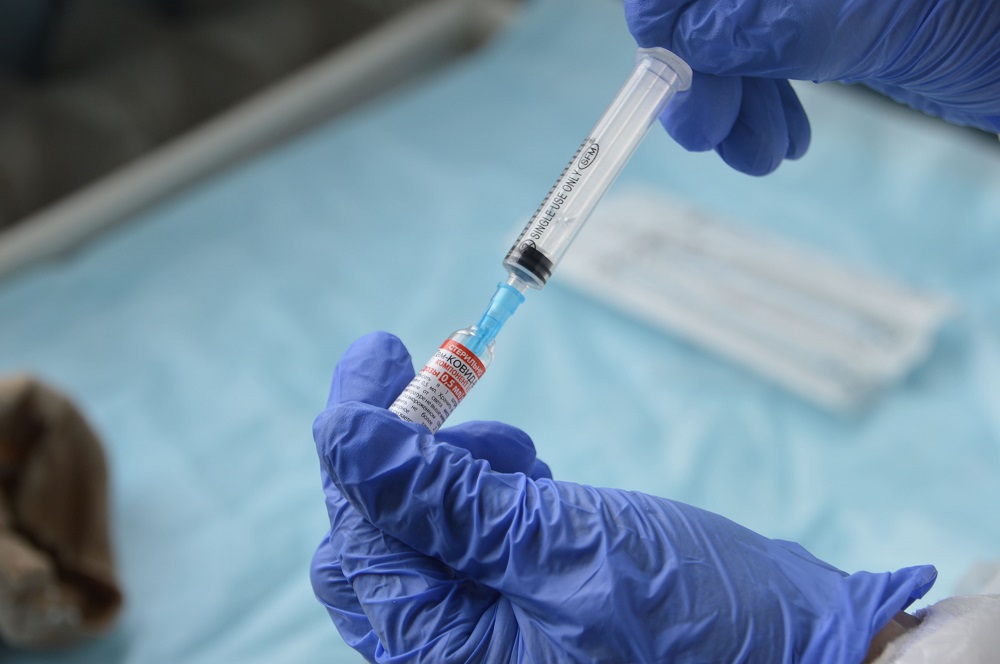 The Ministry of Health of Azerbaijan issued a statement calling on certain categories of citizens of the country to be vaccinated with the third dose of the coronavirus vaccine. This dose is optional and no changes are planned in the rules for obtaining a COVID passport in regards to it.
Azerbaijan to allow children over the age of 12 to get vaccinated against Covid-19
Armenia: unvaccinated persons will have to take PCR tests or risk losing jobs
Appeal from the Ministry of Health
"The presence of the more infectious delta strain requires an increased fight against the virus. In addition, seasonal changes in weather also increase the risk of a new wave of the pandemic", the Azerbaijani Ministry of Health said in a statement released on October 11.
The agency notes that studies show a decrease in the effectiveness of Covid-19 vaccines over time.
"It is necessary to introduce a third (booster) dose to enhance the body's immunity to disease. This process has already started in Turkey, China, Austria, Belgium, Finland, Hungary, Russia, Spain, Switzerland.
Taking into account the results of the latest scientific research and the mutation of COVID-19, the Ministry of Health calls on citizens who are at risk or have chronic diseases, health workers, as well as people over 50 years old who have already received the first two doses of the vaccine, to make a booster dose of the drug", the Ministry of Health said.
The ministry also added that all vaccines registered in Azerbaijan can be used as the third dose.
The third dose is optional
From October 1, 2021, throughout Azerbaijan, only those who have a COVID passport are allowed to enter enclosed public facilities. This electronic document is issued to people who have received two doses of the coronavirus vaccine or have had an infection in the past six months.
Citizens and owners of establishments who violate these rules are subject to heavy fines.
A new statement from the Ministry of Health does not mention any changes in the rules for obtaining a COVID passport, and the third, booster dose of the vaccine is completely voluntary.
The operational situation on the spread of COVID-19 infection in Azerbaijan, Armenia and Georgia can be found here.
Vaccination in Azerbaijan
Vaccination with four vaccines is now available in Azerbaijan – SinoVac, Pfizer, Sputnik V and AstraZeneca. Only persons over 60 years of age can be vaccinated with AstraZeneca.
According to official information, as of October 10, 2021, 48.9% of the country's total population was vaccinated with one dose of the vaccine. 41.1% of the population received two doses of the coronavirus vaccine.
Former head of Iranian Central Bank sentenced to 10 years on corruption charges
A former governor of Iran's Central Bank, Valiollah Seif, was sentenced on Saturday to 10 years in prison on corruption charges involving the mismanagement of millions of dollars, the judiciary said.
Report informs, citing Reuters, that Seif and two of his deputies, who also received jail terms, were found guilty of "disturbing the foreign exchange market, the country's economic climate and mismanagement," a judiciary spokesman was quoted as saying by state media.
State TV said Seif and one of his deputies, Ahmad Araghchi, who was sentenced to eight years in jail, had "provided illegal conditions for the mismanagement of about $160 million and 20 million euros."
Another deputy, Salar Aghakhani, was sentenced to 13 years.
Seif led the central bank from 2013 to 2018 under former President Hassan Rouahni's administration. He was replaced by Abdolnasser Hemmati.
Subscribe to our Twitter page
How did natural gas tariffs change in Azerbaijan?
At today's meeting, the Tariff Council adopted relevant decisions on the regulation of wholesale and retail tariffs for natural gas.
Report informs that, according to the decision, in the population category, tariffs increased by AZN 0.02 for annual consumption of up to 1,200 cubic meters (1,200 cubic meters included) and AZN 0.12 for one cubic meter.
Tariffs for the population within the consumption limits of 1,200 to 2,500 cubic meters and over 2,500 cubic meters remained unchanged at AZN 0.20 and AZN 0.25, respectively. Gas tariffs for industry and agriculture in the non-population category are increased from AZN 0.20 to AZN 0.22.
The tariff for gas sold by Azeristiliktejizat OJSC to yard boiler houses and CNG filling stations increases from AZN 0.13 to 0.171. Tariffs for gas supplied to other consumers remain at the same level of AZN 0.25 per 1,000 cubic meters and for gas used as crude in the production of methanol and urea products at AZN 0.20.
The tariff for gas sold by Azerkontrakt OJSC to Azerenerji OJSC for energy generation is increased from AZN 0.13 to AZN 0.171. The tariff for gas purchased from the Azneft PA increases from AZN 0.75 to AZN 0.9.
Moreover, the tariff for gas sold by Azerkontrakt OJSC to Azneft PU and Nakhchivangaz PU increases from AZN 0.11 to AZN 0.118.
The manufacturer buys natural gas at a negotiated price for the production of electricity supplied to data centers that carry out activities for processing, recording, and transmitting data, which receive power directly through the 35 and 110 kV lines, where the daily demand for loads is stable, and the average monthly energy consumption for production targets is at least 5 million kWh.
Subscribe to our Facebook page
NATO Special Rep for Caucasus and Central Asia to visit Baku
NATO Special Representative for the Caucasus and Central Asia Javier Colomina will arrive in Azerbaijan next week, Report informs, citing Colomina's Twitter page.
"Looking forward to my first trip to the Caucasus next week. I will be visiting Azerbaijan, Georgia, and Armenia in my new capacity as NATO Special Rep for the Caucasus and Central Asia in order to identify ways to further enhance NATO's engagement in the Caucasus," he tweeted.
Looking forward to my first trip to the #Caucasus next week. I will be visiting #Azerbaijan , #Georgia , and #Armenia in my new capacity as #NATO Special Rep for the Caucasus and Central Asia in order to identify ways to further enhance NATO's engagement in the Caucasus.

— Javier Colomina (@JavierColominaP) October 16, 2021
Subscribe to our Twitter page