Azerbaijan identifies missing serviceman
The identity of an Azerbaijani serviceman, who went missing during the Patriotic War, and whose remains were recently found, has been established.
Rafat Gurbanov, Deputy Head of the Goranboy executive authorities and head of the Department for Analysis of Socio-Economic Development and Forecasting, told Report's western bureau about it.
Rafat Gurbanov added that the deceased's name is Ixtiyar Aliyev. The remains of the soldier will be handed over to his family tomorrow and will be buried in the village of Goran, Goranboy District.
Ixtiyar Aliyev went missing on October 6, 2020 after taking part in battles in the Agdara direction.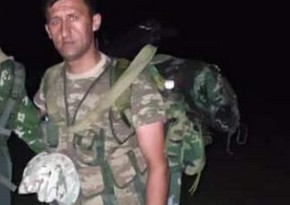 Subscribe to our Facebook page
Former head of Iranian Central Bank sentenced to 10 years on corruption charges
A former governor of Iran's Central Bank, Valiollah Seif, was sentenced on Saturday to 10 years in prison on corruption charges involving the mismanagement of millions of dollars, the judiciary said.
Report informs, citing Reuters, that Seif and two of his deputies, who also received jail terms, were found guilty of "disturbing the foreign exchange market, the country's economic climate and mismanagement," a judiciary spokesman was quoted as saying by state media.
State TV said Seif and one of his deputies, Ahmad Araghchi, who was sentenced to eight years in jail, had "provided illegal conditions for the mismanagement of about $160 million and 20 million euros."
Another deputy, Salar Aghakhani, was sentenced to 13 years.
Seif led the central bank from 2013 to 2018 under former President Hassan Rouahni's administration. He was replaced by Abdolnasser Hemmati.
Subscribe to our Twitter page
How did natural gas tariffs change in Azerbaijan?
At today's meeting, the Tariff Council adopted relevant decisions on the regulation of wholesale and retail tariffs for natural gas.
Report informs that, according to the decision, in the population category, tariffs increased by AZN 0.02 for annual consumption of up to 1,200 cubic meters (1,200 cubic meters included) and AZN 0.12 for one cubic meter.
Tariffs for the population within the consumption limits of 1,200 to 2,500 cubic meters and over 2,500 cubic meters remained unchanged at AZN 0.20 and AZN 0.25, respectively. Gas tariffs for industry and agriculture in the non-population category are increased from AZN 0.20 to AZN 0.22.
The tariff for gas sold by Azeristiliktejizat OJSC to yard boiler houses and CNG filling stations increases from AZN 0.13 to 0.171. Tariffs for gas supplied to other consumers remain at the same level of AZN 0.25 per 1,000 cubic meters and for gas used as crude in the production of methanol and urea products at AZN 0.20.
The tariff for gas sold by Azerkontrakt OJSC to Azerenerji OJSC for energy generation is increased from AZN 0.13 to AZN 0.171. The tariff for gas purchased from the Azneft PA increases from AZN 0.75 to AZN 0.9.
Moreover, the tariff for gas sold by Azerkontrakt OJSC to Azneft PU and Nakhchivangaz PU increases from AZN 0.11 to AZN 0.118.
The manufacturer buys natural gas at a negotiated price for the production of electricity supplied to data centers that carry out activities for processing, recording, and transmitting data, which receive power directly through the 35 and 110 kV lines, where the daily demand for loads is stable, and the average monthly energy consumption for production targets is at least 5 million kWh.
Subscribe to our Facebook page
NATO Special Rep for Caucasus and Central Asia to visit Baku
NATO Special Representative for the Caucasus and Central Asia Javier Colomina will arrive in Azerbaijan next week, Report informs, citing Colomina's Twitter page.
"Looking forward to my first trip to the Caucasus next week. I will be visiting Azerbaijan, Georgia, and Armenia in my new capacity as NATO Special Rep for the Caucasus and Central Asia in order to identify ways to further enhance NATO's engagement in the Caucasus," he tweeted.
Looking forward to my first trip to the #Caucasus next week. I will be visiting #Azerbaijan , #Georgia , and #Armenia in my new capacity as #NATO Special Rep for the Caucasus and Central Asia in order to identify ways to further enhance NATO's engagement in the Caucasus.

— Javier Colomina (@JavierColominaP) October 16, 2021
Subscribe to our Twitter page