Parviz Shahbazov: Khizi-Absheron wind farm to save 220 million cu. m. of natural gas
The new wind farm Khizi-Absheron with a capacity of 240 MW, of which the foundation was laid today, will be of particular importance for Azerbaijan's energy system. It will generate about 1 billion kW-hours of electricity per year, saving 220 million cubic meters of natural gas and avoiding 400,000 tons of carbon emissions, Azerbaijan's Energy Minister Parviz Shahbazov told a news conference with the participation of Saudi Minister of Energy, Prince Abdulaziz bin Salman Al Saud, Report informs.
"The president set a goal for the energy system of Azerbaijan – by 2030, 30% of our generating capacities will become alternative, that is, renewable energy sources, and therefore, a number of concrete steps are being taken in this direction, and today's project is one of the activities in this direction," the minister said.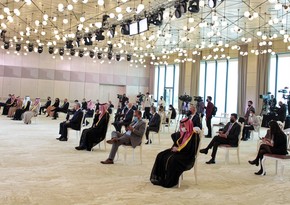 Subscribe to our Facebook page
Turkey's National Security Council discusses resumption of ties with Armenia
Turkish President Recep Tayyip Erdogan has presided over the session of the country's National Security Council.
Report informs that the event focused on steps to be taken in relations with Armenia in the future.
They stressed the mechanisms created by Turkey and Armenia through constructive and sincere efforts to strengthen peace and stability in the South Caucasus and the importance attached to their improvement.
Subscribe to our Linkedin page
Iranian, Qatari FMs discuss situation in Yemen and Afghanistan 
Qatari Foreign Minister Sheikh Mohammed bin Abdulrahman Al Thani met with Iranian Foreign Minister Hossein Amir-Abdollahian in the Iranian capital of Tehran, Report informs.
The two ministers reviewed bilateral and regional relations, as well as the situation in Yemen and Afghanistan.
According to Amir-Abdollahian, military activity in Yemen has increased in recent weeks.
"These circumstances have exacerbated the war in the country and damaged the peace process," he added.
The Qatari Foreign Minister, in turn, noted that a new phase of tension has begun in the region: "We are sure that there is no military solution to the crisis in Yemen and should be resolved through dialogue because the current situation is not in the interests of sides."
Subscribe to our Linkedin page
WHO says NeoCov's potential danger to humans requires further study
The question of whether the NeoCov coronavirus, recently discovered in bats in South Africa, poses a threat to humans, requires further study, according to the World Health Organization, Report informs, citing TASS.
"Whether the virus detected in the study will pose a risk for humans will require further study," the organization has told TASS, adding that it "works closely" with the World Organization for Animal Health (OIE), the Food and Agriculture Organization (FAO) and the UN Environment Program (UNEP)in order to "monitor and respond to the threat of emerging zoonotic viruses."
Chinese researchers earlier detected a new type of coronavirus among bats in South Africa. According to reports, it is closely related to the Middle East respiratory syndrome-related coronavirus (MERS) and can enter cells in a manner similar to that of SARS-CoV-2.
The WHO told TASS that its experts were aware of this research, and "thank the researchers for sharing their findings in a preprint."
"Animals, particularly wild animals are the source of more than 75% of all emerging infectious diseases in humans, many of which are caused by novel viruses. Coronaviruses are often found in animals, including in bats which have been identified as a natural reservoir of many of these viruses," the global body said.
According to Chinese scientists, NeoCov can penetrate human cells in the same way as SARS-CoV-2. It is only one mutation away from becoming dangerous for humans, researchers said in a paper shared via the bioRxiv electronic library.
Subscribe to our Twitter page