Azerbaijan and Armenia have been locked in a land battle for almost three decades, but some officials say that long-running feud has reached a dangerous tipping point – capped by casualties and daily cease-fire violations.
"It is an unresolved conflict and continues to be very strategically dangerous to the whole region," Elin Suleymanov, the Azerbaijan ambassador to Washington, told Fox News this week. "The status quo is not sustainable. We don't have peacekeepers. The soldiers are facing each other, sometimes just 100 feet apart.
"You never know when someone will decide to really destabilize."
The former Soviet nation, in the Caucasus mountains south of Russia and north of Iran, is technically still at war with neighboring Armenia, dating back to 1991, after the fall of the Soviet Union. The people of Nagorno-Karabakh voted to secede from Azerbaijan and received Armenian military backing to do so.
The U.N. has, however, passed a number of resolutions recognizing the disputed territory as Azerbaijani, and border tensions have been punctuated by bouts of unrest ever since.
"The potential for major escalation is always there. Both sides have enough weapons, enough armor — the conflict could arise at any time," Suleymanov cautioned. "There is a dangerous reality on the ground where things could really get out of hand."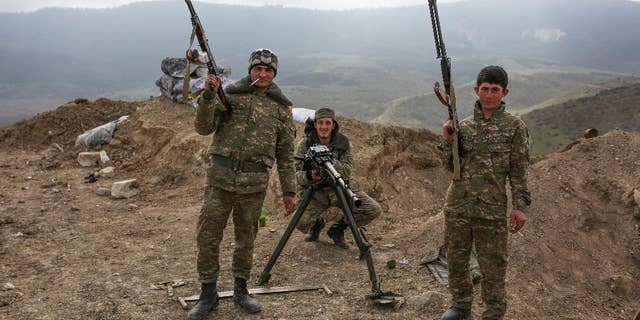 Armenian soldiers pose near a front line in Nagorno-Karabakh, Azerbaijan, Wednesday, April 6, 2016. (Karo Sahakyan/PAN Photo via AP) (The Associated Press)
At its worst point, in 1994, the conflict claimed the lives of 30,000 people and prompted a refugee flow of more than one million, bringing about a precarious cease-fire agreement.
But as it now stands, cease-fire violations are daily happenings, often taking the form of sniper-fire exchanges across the dividing line. Around once a month, Suleymanov said, the sniper fire is stepped up to artillery exchanges.
And the two warring factions have stepped up their military capacity, too.
Although the leaders of both nations just met in Vienna for peace talks past week, confidence that there will be an immediate resolution to the long-running impasse is modest.
"People today have lived with this stalemate conflict," Suleymanov said. "People want to see peace; people want to intermarry. People want to heal."
The Armenian Embassy declined to comment initially, preferring to wait until after the Vienna Summit to make any public statements. On late Friday, they responded with a statement.
"Since the first contact between the Prime Minister of Armenia and President of Azerbaijan last fall the ceasefire regime was generally observed and it was the calmest period during the last decade. Although there were continues belligerent statements from the Azerbaijani side the relative calmness on the line of contact created a necessary atmosphere to have a formal meeting under the auspices of the Co-Chairs of the OSCE Minsk Group," noted the Ambassador Varuzhan Nersesyan. "Armenia has always supported the mediator's proposals on building up an environment conducive to peace, introducing risk reduction and incident prevention mechanisms, and confidence-building measures to allow the negotiations to move forward."
He also said that the Vienna summit was "held in an atmosphere of constructive dialogue, and the two leaders reiterated their agreements reached in Dushanbe. Humanitarian issues related to the conflict were among the topics of the discussion. There was an extensive exchange of views between the two leaders. Our overall assessment of the meeting is positive."
For the Armenian side the existential security of the people of Nagorno Karabagh and its status remains a top priority," Nersesyan continued.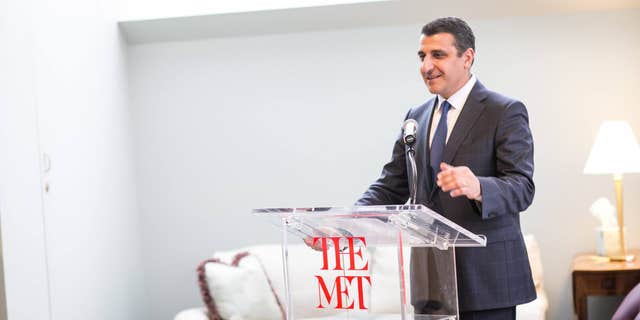 Ambassador Varuzhan Nersesyan (Courtesy Armenian Embassy)
Suleymanov spoke to Fox News soon after speaking at his sixth consecutive AIPAC conference, in which he emphasized that Azerbaijan serves as the only Muslim-majority nation to take a place at the Israel-focused annual event.
"Being Muslim doesn't mean we are anti-Israel, and we have a strong partnership," he said, dismissing any criticism they receive for their AIPAC participation. "We get pushback for many things we do, it isn't a big deal."
This Article was originally published on foxnews by Hollie McKay
Hollie McKay has a been a Fox News Digital staff reporter since 2007. She has extensively reported from war zones including Iraq, Syria, Yemen, Afghanistan, Pakistan, Burma, and Latin America investigates global conflicts, war crimes and terrorism around the world. Follow her on Twitter.