EU foreign affairs chief Federica Mogherini expressed hope on Thursday (4 April) that the EU and Azerbaijan would conclude a new trade and political agreement very soon, using the Arabic expression Inshallah (God willing).
The EU's relations with Azerbaijan are based on the EU-Azerbaijan Partnership and Cooperation Agreement, in force since 1999. In February 2017, talks began on a new framework agreement. Its conclusion is near, but a few outstanding issues remain.
In an exclusive interview with EURACTIV last October, Azerbaijan's Foreign Minister Elmar Mammadyarov said his country hoped the agreement could be initialed under the term of the present Commission, which is set to end on 1 November.
Speaking to the press after an EU-Azerbaijan Cooperation Council, the 16th of its kind, Mogherini said Brussels and Baku were at "the final, crucial phase" of talks on the "new, ambitious bilateral agreement".
Unlike Ukraine, Georgia and Moldova, all of which have signed association agreements with the EU, as well as "deep and comprehensive free trade agreements", Azerbaijan, a country rich in oil and gas, seeks very close relations with the EU, stopping short of regulatory alignment.
Mammadyarov said there were "technical issues" on which his country had demonstrated flexibility, but expected the same from the EU. Reportedly, these refer to trade.
'Good will'
EURACTIV asked Mogherini and Mammadyarov to be more specific, and Mogherini said that at this stage of the negotiations, there was a golden rule not to comment publicly on details.
"Whenever there is a strong political will, things become realistic, so inshallah, we might get there", she said.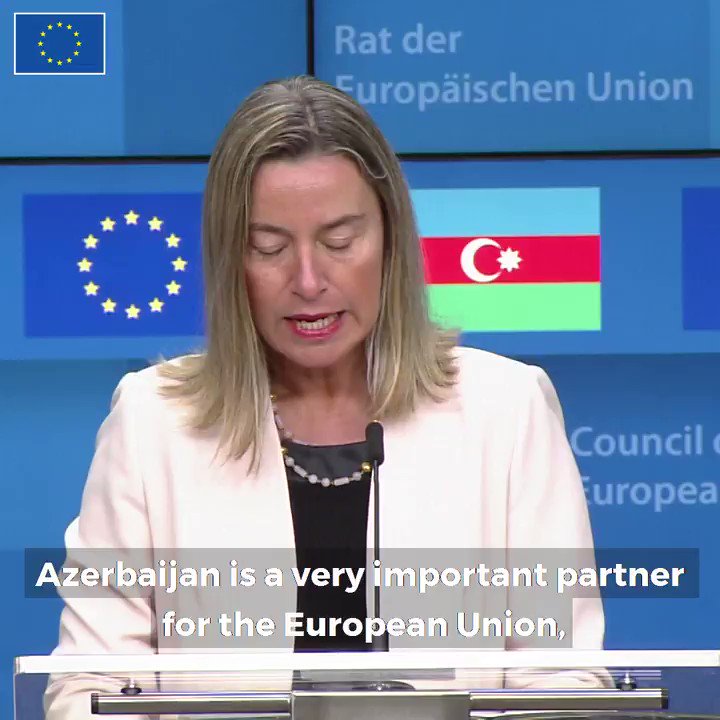 "Important phase of negotiating our new, ambitious EU Azerbaijan agreement. Full support to @OSCE Minsk Group for peaceful settlement of Nagorno Karabakh conflict. We also discussed democracy, rule of law & human rights" @FedericaMog21306:50 – 4 Apr 2019128 people are talking about thisTwitter Ads information and privacy
Mammadyarov said that irrespective of which chapters were still outstanding, the most important was the good will. He said Azerbaijan hoped that the parts where there is agreement would be initialised. "My impression is that there is good will," he said.
Nagorno-Karabakh
EURACTIV also asked about the prospects for solving the Nagorno-Karabakh issue, where a positive momentum has been observed, and the role of the EU in the process.
Mogherini answered that the Organisation for Security and Cooperation in Europe (OSCE) had the leading role in this process while the EU was preparing to assist the future settlement and was already accompanying the process, investing in people-to-people contacts, working with society, and encouraging the parties to engage constructively.
Last week the EU welcomed the first high-level meeting of the leaders of Azerbaijan and Armenia over the Nagorno-Karabakh conflict, held in Vienna under the so-called Minsk group of OSCE.