Azeri Oil Chief's son comes up with a New Story About his Stolen Luxury Watch
The theft in Spain of a $1.35 million Richard Mille watch — one of just 75 such pieces in existence and reportedly among the most expensive ever made — has stirred heated speculation, accusations, and counter-accusations in Azerbaijan.
The alleged former owner of the watch is the son of the president of SOCAR, the Caucasian country's massive state-owned oil company. The affair could have serious political implications.
Reports in the Azerbaijani media tentatively identified 25-year-old Rashad Abdullayev as the victim of the June 19 theft based on a leaked Ibiza police report. In response, a SOCAR press secretary denied the story as "fake," describing it as an allegation against Abdullayev's father Rovnag Abdullayev, the company president.
The personal data in the police report — the complainant's name, his date of birth, and the name of his mother — all match the known biographical details of the SOCAR head's son as they appear in a database of Azerbaijani citizens. His email address, as given in the police report, also matches the one listed on his LinkedIn profile in 2014.
A senior retired Spanish police officer who examined the police report has confirmed to OCCRP that it was authentic based on information provided by his former colleagues. The officer, who asked not to be identified because he was not authorized to receive confidential police information, related investigators' astonishment at the allegation of such a theft. "[They've] never seen anything like it," he said. "The investigators in Ibiza still don't know if the motivation for the complaint is true or not."
Another young Azeri initially reported to be the watch's owner, Timur Ahmadov, accused Abdullayev directly in a profanity-laced YouTube statement in which he emphasized the family's alleged corruption.
"The son of the head of the oil company of Azerbaijan got his watch nicked in Ibiza last week," Ahmadov said in the video on June 28. "They've gone around in the Azerbaijani media writing that it's me … and that I love million-pound watches … But in reality I don't actually wear any watches, and I don't need any watches, I don't like them. This guy obviously is trying to save his ass."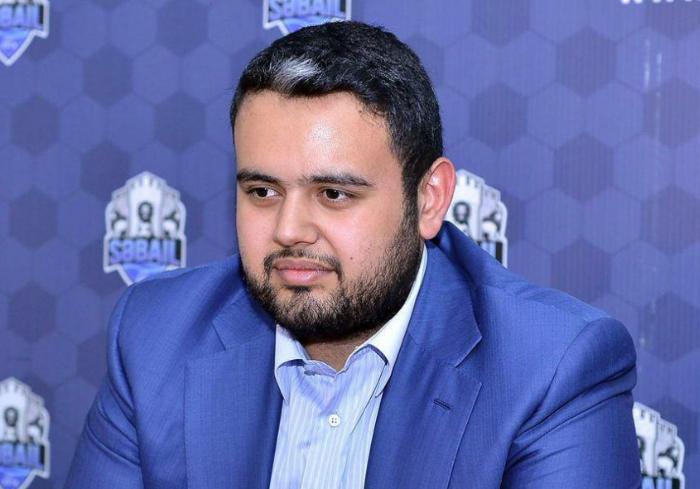 Rashad Abdullayev.Credit: Sabail Football Club Facebook page
A New Story
Despite the initial SOCAR denial, the younger Abdullayev seems to have decided to accept at least part of the story.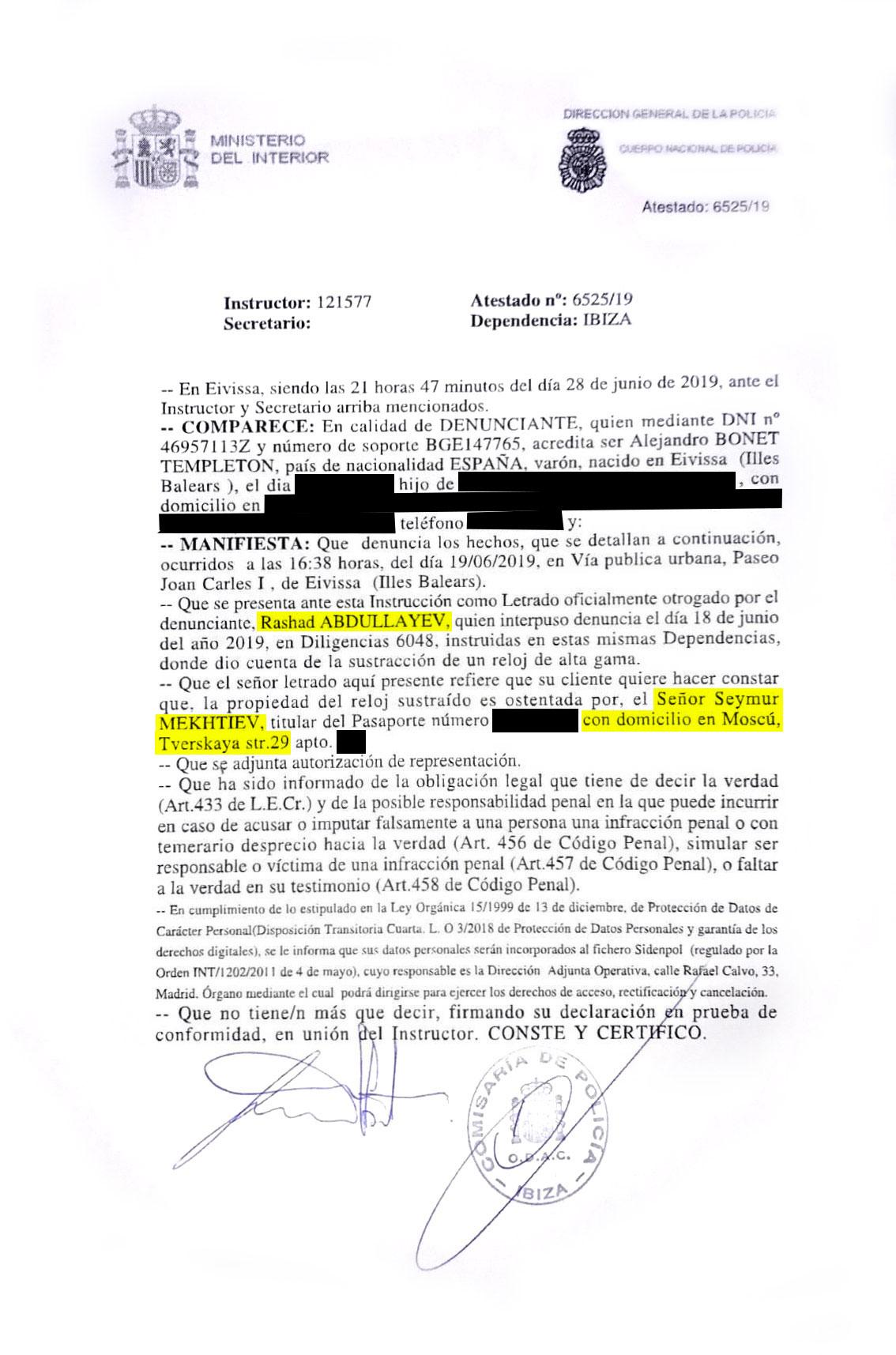 The amendment to the initial police complaint, claiming that the watch belonged not to Rashad Abdullayev but rather to a man named Seymur Mekhtiev. Click to enlarge.Credit: OCCRP
OCCRP reporters have seen a subsequent amendment to the initial police complaint by the young man's lawyer in which the 25-year-old's presence in Ibiza, possession of the watch, and watch's value are not disputed.
However, the amendment attempts to disassociate Abdullayev from the watch, claiming that the luxury timepiece did not belong to him; rather it says that he was borrowing it from someone else. It names a Seymur Mekhtiev as the real owner, listing his address in Moscow on the historic Tverskaya Street in the city center.
Reporters found people named Seymur Mekhtiev in Russia, Azerbaijan, and the United Kingdom, though the lack of identifying information makes it impossible to determine who the claim might be referring to. Reporters could find no evidence that any of these men are major businessmen for whom such an acquisition would be possible.
According to Moscow property records, the apartment named as Mehkhtiev's actually belongs to Oleg Kalaev, who is the former finance minister and vice premier of the Russian republic of North Ossetia-Alania.
"Yes, that's my apartment. We live in it when in Moscow," Kalaev confirmed to OCCRP. "I don't know a person named Seymur Mekhtiev. There must be some mistake. I've owned this apartment for many years … There are only three people registered in it — me, my son, and my sister."
"It is one hundred percent a mistake," Kalaev said.
Modest Officials
Azerbaijan's president, Ilham Aliyev, has ruled the country since 2003, frequently repressing independent journalism and political opposition and presiding over a country beset by corruption.
This is an impression he, at least, would like to change. "State officials should behave modestly. Them and their family members," he said in a speech last year. "They need to be with the people. They shouldn't think that they have a special status. Their job is to serve people and solve their problems."
According to a SOCAR annual report, the official salaries and benefits for the company's president and 12 vice presidents totaled 1.28 million manat ($755,000) in 2018 — considerably less than the value of the stolen watch. (Abdullayev reported its value at 1.2 million euros, or $1.35 million; the model was reportedly initially available for just under $1 million.)
But this isn't the first time the son of the state oil company head has found himself under the microscope.
Rashad Abdullayev was previously investigated by OCCRP and found, at the age of 21, to have worked in business structures affiliated with SOCAR and to have run a charity associated with the oil company that supported thousands of Azerbaijani students in Turkey. According to the investigation, he started working for a SOCAR company at the age of 17.
If it indeed belonged to him, the watch stolen in Spain does not appear to be Rashad Abdullayev's first such possession. A 2017 photo at a meeting of the Sabail Football Club, of which he was chairman, shows him wearing a watch that a specialist identified as the Roger Dubuis Excalibur Quatuor, which costs more than $1 million.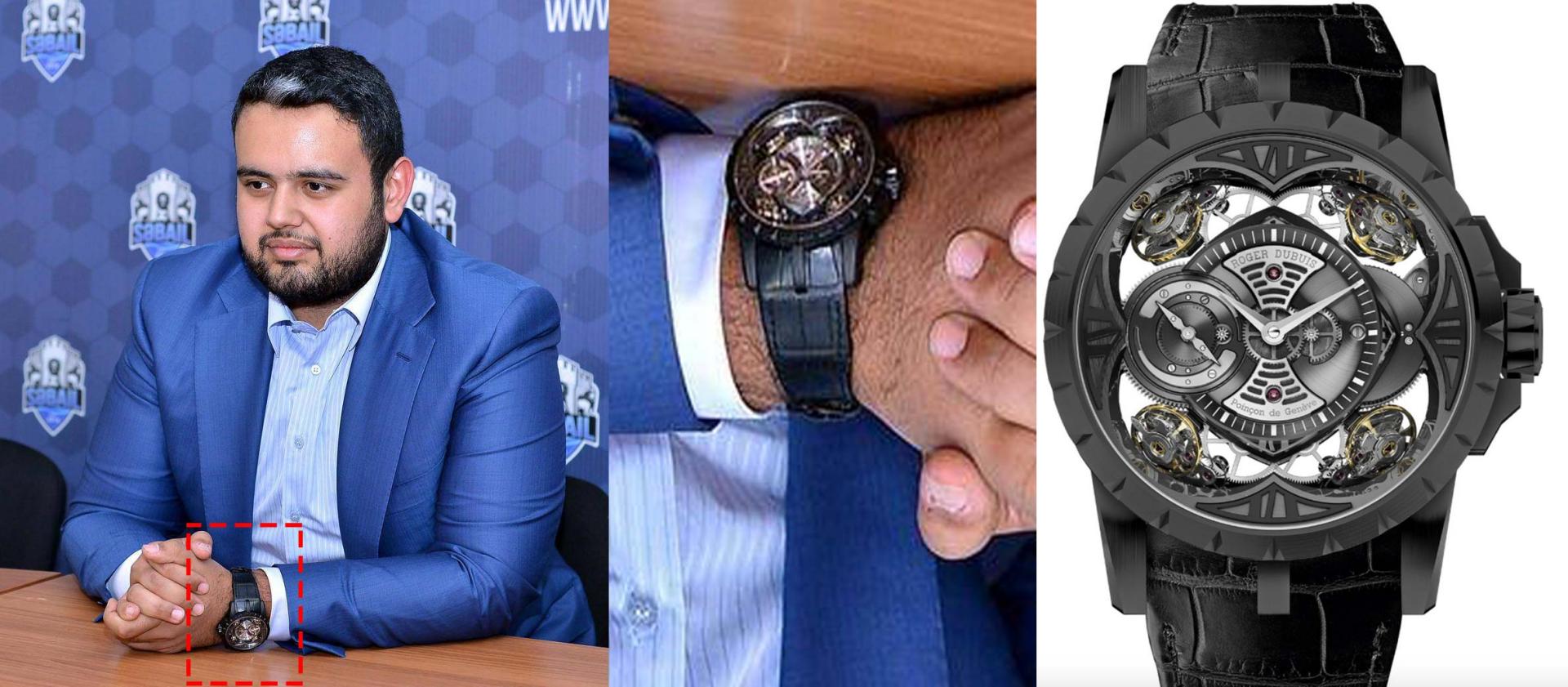 At a meeting of the Sabail Football Club, Rashad Abdullayev is seen wearing a watch that appears to be the Excalibur Quatuor model from Roger Dubuis, valued at over $1 million.Credit: Sabail Football Club Facebook page; Roger Dubuis.
Adbullayev's father, SOCAR president Rovnag Abdullayev, has also been pictured with expensive watches, though they do not come close to the value of those worn by his son.
"This raises serious questions, given that senior public officials at SOCAR and their relatives are flashing watches worth many times their official salary," said Barnaby Pace, a campaigner at anti-corruption advocacy group Global Witness who has previously investigated the Azerbaijani oil giant.
"Time and again we've raised concerns about the lack of public information about the true beneficiaries of SOCAR's deals. But journalists and civil society activists continue to face violence and repression for asking questions about corruption in Azerbaijan, and so suspicions around who is truly benefitting from Azerbaijan's oil wealth will only grow."
Neither Rashad Abdullayev nor SOCAR responded to requests for comment.
This article originally published on OCCRP.com With additional reporting by Vladimir Petin. Donate to OCCRP here
Our Mission is to inform readers around the globe about the state of affairs in politics, economy and social issues in Azerbaijan; and provide a platform for open and diverse discussions on all topical issues concerning Azerbaijan in specific, South Caucasus in general and beyond.
26 years pass since occupation of Azerbaijans Aghdam District
Today, 26 years pass from the occupation of Azerbaijan's Aghdam district by Armenia, Trend reports.
Armenian invaders occupied the major part of the Aghdam District on July 23, 1993, seizing around 882 sq km of 1,094 sq km territory of Aghdam, one city, and 80 villages.
More than 6,000 people died during the battles in Aghdam, while 128,000 people became internally displaced persons after the occupation.
The district's occupation inflicted a damage of $6.179 billion to Azerbaijan. The damage inflicted to the region's agriculture only is estimated at 992.8 million manats.
The conflict between the two South Caucasus countries began in 1988 when Armenia made territorial claims against Azerbaijan. As a result of the ensuing war, in 1992 Armenian armed forces occupied 20 percent of Azerbaijan, including the Nagorno-Karabakh region and seven surrounding districts.
The 1994 ceasefire agreement was followed by peace negotiations. Armenia has not yet implemented four UN Security Council resolutions on withdrawal of its armed forces from the Nagorno-Karabakh and the surrounding districts.
News.Az
Our Mission is to inform readers around the globe about the state of affairs in politics, economy and social issues in Azerbaijan; and provide a platform for open and diverse discussions on all topical issues concerning Azerbaijan in specific, South Caucasus in general and beyond.
India launches second Moon mission
India`s mission to the moon has blasted into space one week after a technical glitch forced scientists to abruptly halt its scheduled launch, according to The Guardian.
Thousands gathered to watch Chandrayaan-2 take off at a 2.43pm local time on Monday from Satish Dhawan space center in Sriharikota, north of Chennai.
Last Monday, the unmanned mission was aborted 56 minutes from takeoff. The Indian Space Research Organisation (Isro) blamed a "technical snag".
In a speech after the launch, Kailasavadivoo Sivan, chairman of Isro, said the agency's staff had worked tirelessly to fix the fault and had "bounced back with flying colors".
"It is the beginning of a historical journey of India towards the moon, and to land at a place near the south pole to carry out scientific experiments to explore the unexplored," said Sivan.
With India poised to become the world's fifth-largest economy, Prime Minister Narendra Modi's ardently nationalist government is eager to show off the country's prowess in security and technology.
Chandrayaan-2 aims to become the first mission to conduct a surface landing on the lunar south pole region, where it will collect crucial information about the moon's composition. It would be India's first surface landing on the moon – a feat previously achieved by only Russia, the US, and China.
The $141m (£113m) mission is a "demonstration of the growing sophistication of India's space power", said Dr. Rajeswari Pillai Rajagopalan, head of the nuclear and space policy initiative at the Observer Research Foundation thinktank in Delhi.
India launched its first lunar probe in 2008 and guided a spacecraft into orbit around Mars in 2014.
News.Az
Our Mission is to inform readers around the globe about the state of affairs in politics, economy and social issues in Azerbaijan; and provide a platform for open and diverse discussions on all topical issues concerning Azerbaijan in specific, South Caucasus in general and beyond.
Fires become frequent in Armenia
Cases of fires in Armenia have become very frequent this year hitting the record high – they increased 2.1 times in the first half of this year, compared with the same period a year before, Sergey Hayrapetyan, spokesman of the emergency ministry's firefighting service, said on Monday.
"As for the fires on territories covered with plants, their number was four times greater this year than at the same period a year earlier," he said.
In his words, the territories swallowed by flames were 5.7 times greater.
Over 20 days of July 2019, he said, more than 1,200 fires have been reported, and 75% of them happened on green spaces.
Hayrapetyan said that the high frequency of fires was caused by heat and also by a human factor.
He said that most frequently fires happen in Yerevan as well as in Kotayk, Ararat, Syunik, Armavir and Aragatsotn provinces.
He stressed that fire-preventing efforts are not only the emergency ministry's business – citizens themselves, local governing bodies and various organizations should do something as well.
News.Az
Our Mission is to inform readers around the globe about the state of affairs in politics, economy and social issues in Azerbaijan; and provide a platform for open and diverse discussions on all topical issues concerning Azerbaijan in specific, South Caucasus in general and beyond.